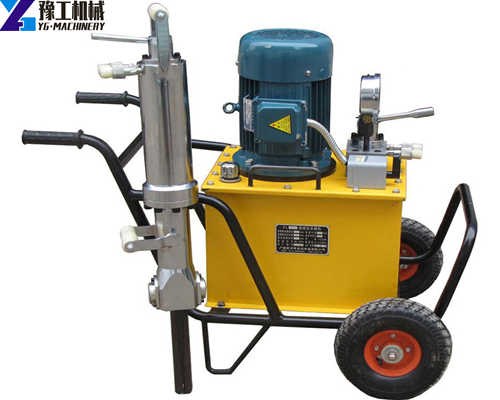 Rock Splitter Machine For Sale Introduction
The rock splitter machine (hydraulic concrete and rock splitter) is a machine for splitting rocks. The machine can be used for the secondary disintegration of large ore, and partial and total demolition of concrete components. Therefore, the rock splitting machine is widely used in construction, decoration, engineering construction, and ore mining operations. Please feel free to send your requirements to get a rock splitter machine price if you need it.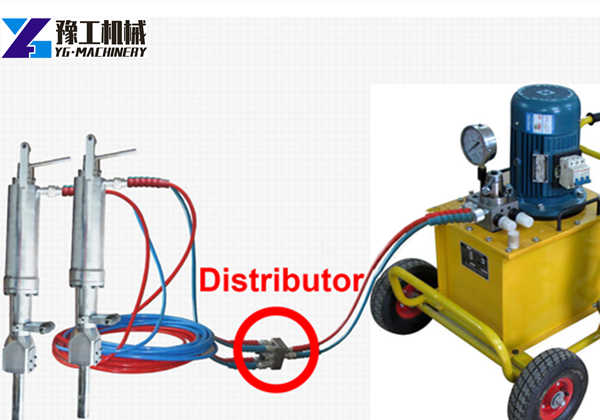 Optional Model of Rock Splitter Machine
| | | | |
| --- | --- | --- | --- |
| Model | YG-250 | YG-350 | YG-450 |
| Wedge Length | 250mm | 350mm | 450mm |
| Piston Stroke | 90/220mm | 90/220mm | 90/220mm |
| Drilling Depth | >500mm | >700mm | >900mm |
| Punching Diameter | 42mm | 46mm | 46mm |
| Crack Width | 10-20mm | 10-20mm | 10-20mm |
| Cleavage Time | 10-15/s | 10-15/s | 10-15/s |
| Splitting Force | 500t | 800t | 800t |
| Weight | 240kg | 250kg | 260kg |
Application of Stone Splitting Machine
YG hydraulic stone splitting machine for sale is especially suitable for the secondary splitting of large rocks and is ideal equipment that can completely replace blasting and manual dismantling.
Compared with the traditional operation methods in the above-mentioned fields, the rock splitting machine has the advantage of a simple structure. Convenient operation, high efficiency, low cost, safety, and energy-saving. YG also provides a rock drill and splitter suitable for excavators. It is mainly composed of a hydraulic rock drill, hydraulic fracturing machine, hydraulic valve, and machine body. Please contact us if you are ready to buy a splitting machine for your project.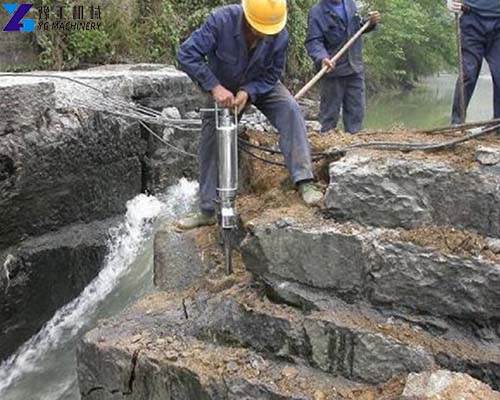 YG Rock Splitting Machine For Sale
Yugong Machine is a new cutting and breaking equipment manufacturer integrating R&D, production, sales, and service. Specializing in the production of large-scale airborne splitting machines, plunger splitting rods, rock splitter machines, hydraulic splitter for rock, pile breaker machines, diamond wire saws, concrete wall saws, diamond chain saws, and other hydraulic equipment.
YG rock splitting machine equipment has the advantages of being small in size, lightweight, and convenient to operate. Safe and reliable, flexible use, high work efficiency. No vibration, no impact, no noise, no dust. Controllability of splitting direction, economical and practical features. If you are looking for reliable rock splitter manufacturers, YG Machinery will be your ideal choice.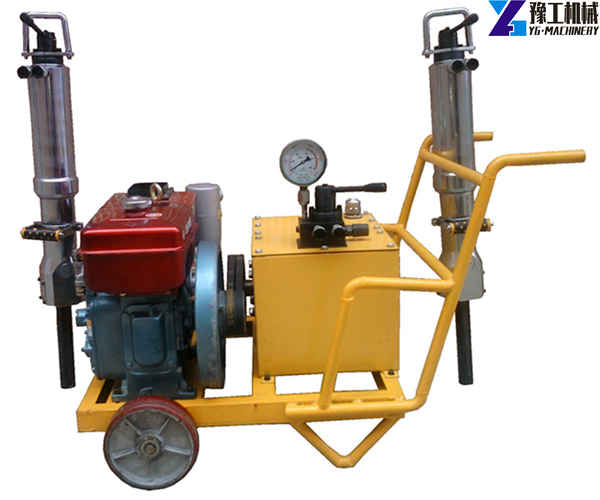 Concrete & Rock Splitter Machine Structure
The structure of the rock splitting machine is mainly composed of a hydraulic station, oil pipeline, splitting gun, rock splitter wedges, etc. According to the type of power station, rock splitter equipment can be divided into four types: electric type, diesel type, gasoline type, and pneumatic motor. The material of the split gun can be divided into two types: steel split gun and aluminum alloy split gun. Rock splitters for sale can also be classified according to the power of the split gun. Contact us to get the concrete splitter machine price right now.

What YG Rock Splitting Machine You Can Choose?
Electric rock splitting machine
Diesel-hydraulic rock splitter
Air motor type splitting machine
Gasoline rock splitter for sale
Gasoline hydraulic rock splitting machine
Pneumatic hydraulic splitter for rock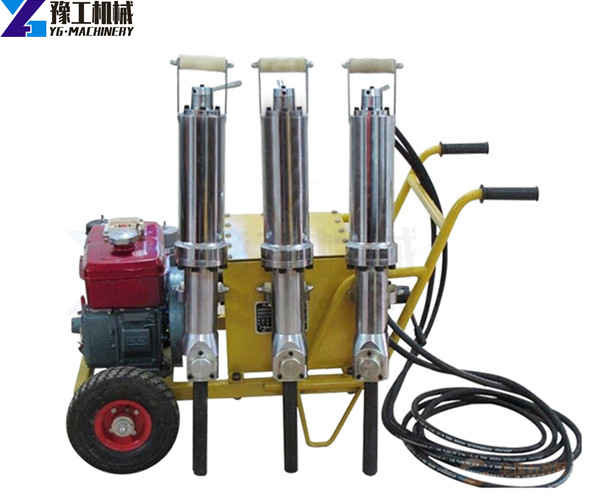 Advantages of Concrete and Rock Splitter Machine
Suitable for Difficult Projects
The concrete and rock splitter machine is used in difficult earth and stone works that cannot be blasted and require high output and tight construction periods. The drill hole diameter of the Yugong rock splitting machine has reached more than 24 cm. And the drill holes are spaced in a row of 3 to 5 meters. The rock splitter for the excavator is hoisted and placed in the rock hole. It can swell and crack about 50 cubic meters of stone in about two minutes.
High Splitting Efficiency
The rock-splitting machine can easily break thousands of cubic meters of solid rock in one day. That is more than ten times faster than the method of using a hammer + cutter machine or expansion crushing agent. And the cost is low. Now leave your message to get a cheap hydraulic concrete splitter price list.

Cutting Advantage is Obvious
The advantage of a rock splitting machine over a cutting machine is its high efficiency. Low water and electricity bills, improved noise and pollution. And earlier construction schedules, thereby reducing costs. If you are looking for professional hydraulic rock splitter manufacturers, we will be your ideal partner.
Large Hole Diameter
Compared with the use of swelling and crushing agents, the advantage of the rock splitter machine is that the drilling diameter is large. The interval is large, the crack is larger, and the effect is better. At the same time, it is effective immediately without waiting, uninterrupted, and repeated operations, not affected by rain and temperature. No shotcrete and strong alkaline hazards, no vibration, safety, and environmental protection. You can send your message to us by WhatsApp directly.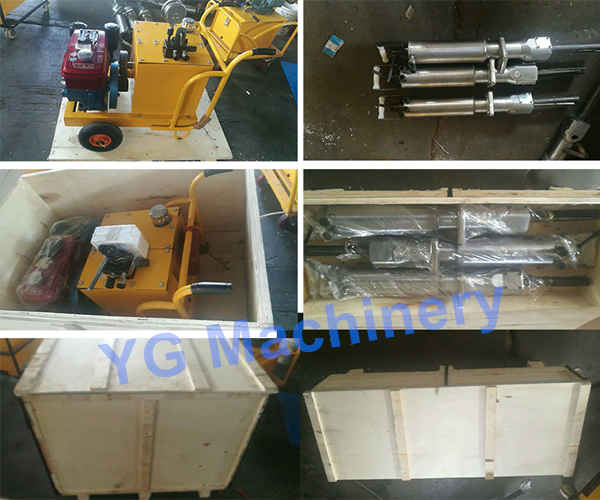 Why Choose YG as Your Partner?
The rock splitting machine uses hydraulic and mechanical methods to split the rock. It is innovative equipment for the efficient fracture of hard rocks. The splitting machine for rock has great technical advantages in breaking the rock when explosives cannot be used in mining and construction earthwork engineering. And it eliminates the expansion and crushing agent. YG Machinery Co., Ltd. took the lead in the construction and technical promotion of rock-splitting machines in China. Welcome to inquiry if you are looking for a high-quality rock splitter machine.
Other products
In addition to the rock splitter machine, we also have the concrete cutting machine for sale. For example, hydraulic rock splitter, concrete wall saw, diamond wire saw, pile cutting machine, pile breaking machine, etc. Please leave a message if you are interested in our products.