Diamond Wire Saw Cutting Machine
Diamond wire saw cutting machine, also known as diamond bead saw, also known as diamond bead wire cutting machine. The diamond wire saw cutting machine is currently the most advanced stone mining equipment in the world. It is a third-generation product in the development of diamond tools. As a new generation of cutting tools, after more than 20 years of research, development, and improvement, it has been widely used in the stone industry, machinery industry, and construction fields.
Diamond wire saws are mainly used for the mining and processing of stone, the demolition and trimming of reinforced concrete buildings, and the processing of brittle and hard materials such as glass. With the development of foreign research on sawing steel parts with diamond wire saws, it has also been used in special fields such as the maintenance of submarine components and the dismantling of nuclear power plants.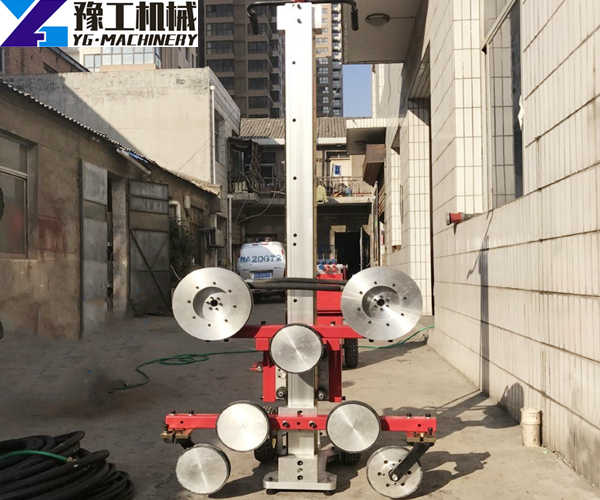 Parameters
Wire Saw Wheel
Parameters
Hydraulic Pump Station
Parameters
Wire Drive Mode
hydraulic
Rated Output Power
22/25KW
Model Type
HM-40/80
Working Voltage
380v 50Hz
Minimum Input Power
25HP/33HP
Hydraulic Pump Station
Gear pump
Output Shaft Speed
350/940/1300r/min
Motor Working Floe
40-100L/min
Maximum Wire Length
18m
Working Pressure
15-20Mpa
Feeding Method
Fully hydraulic
Oil Tank Volume
16L
Wire Saw Wheel
64kg
Weight
98kg
Motor Weight
13kg
Dimension(mm)
650*550*1150
Cutting Type
Transverse and longitudinal cutting
Working Principle of Diamond Wire Cutting Machine
The diamond wire saw machine can be driven by a hydraulic motor or an electric motor. It is mainly composed of the main motion system, feed system, diamond bead saw, tensioning device, guiding mechanism, control system, cooling system, and other components. The diamond beaded rope is usually closed-loop when cutting, relying on equipment installed on the track to drive at an ideal speed.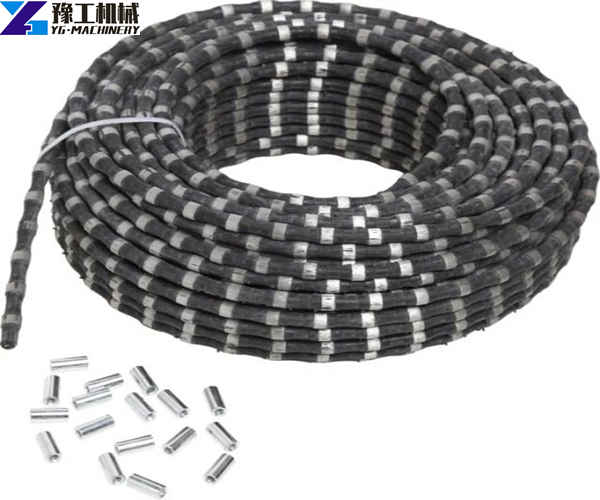 Diamond Beaded Rope Structure
The diamond beaded rope is composed of a rope fixed with the diamond beads according to a certain gap and consists of six parts.
① Steel rope.
②Diamond beads.
③Steel ring, mainly used for fixed distance and isolation beads.
④ Spacers are used to separate the beads and make the beads move along the rope in a small area. Commonly used spacers are spring sleeves, plastic sleeves, and rubber sleeves.
⑤Fixed ring.
⑥The joint, the beaded rope is closed when working. Before working, pass one end of the beaded rope through the two holes that intersect at one point in the two holes drilled into the marble in a vertical or horizontal direction, and then connect the two ends of the beaded rope into a closed shape with a joint.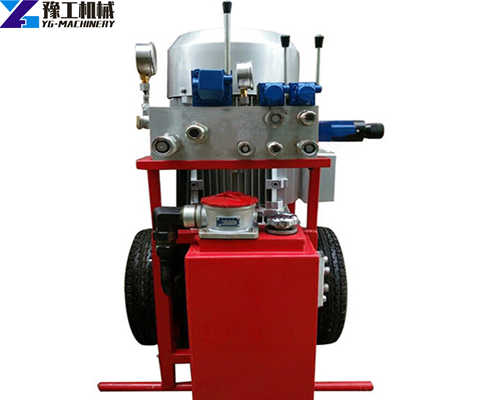 Common Manufacturing Forms Of Diamond Beads
① Sintering method. The powder metallurgy method is used to sinter the diamond particles. A layer of diamond particles with a thickness of 1 to 1.5 is usually arranged at the outer diameter. This method makes the diamond ring have uniform cutting performance. long-lasting. Because of its self-sharpening performance, the ring block can always maintain sharp cutting performance. The choice of diamond ring block can be selected according to the material to be processed with different roughness, bonding agent and hardness, in order to achieve the purpose of high efficiency and economy.
② Electroplating method. This method is made by electrodepositing a layer of diamond single crystal on the steel substrate, so the process is the same as that of general diamond electroplating products. It is made of 45# or 40cr steel to facilitate the firm combination of electroplating and plating, and at the same time make its inner hole resistant to the friction of the steel rope.
③ Brazing method. The diamonds in the high-temperature brazed beads are arranged regularly and reasonably distributed. Chemical bonding and metallurgical bonding coexist. The diamond has strong holding power, high sawing speed, and relatively low sawing cost. Contact us to get the diamond wire saw cutting machine price right now.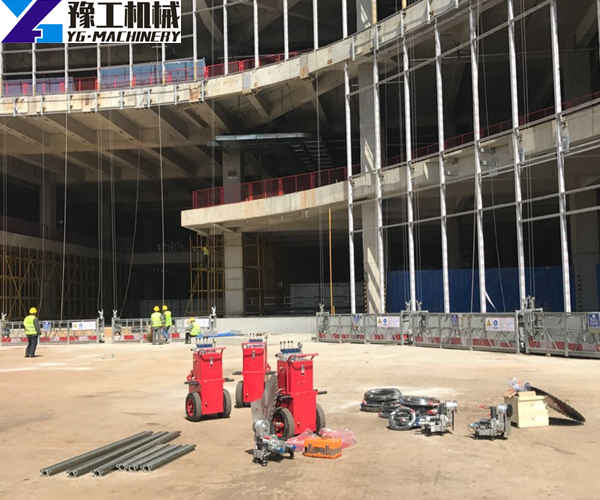 Related machine
As a professional concrete cutting machine manufacturer in China, we have a series of concrete cutting equipment for sale. For example, hydraulic diamond wire saw. Diamond chain saw. Concrete wall saw. Hot sale pile breaker machine, pile cutting machine, hydraulic rock splitter, and so on. If you need any of the above equipment, please feel free to tell us your requirement.