The pipe tapering machine is a kind of pipe shrinking machine, which belongs to the rotary forging forming equipment. It is a device for processing metal pipes into tapered pipes with a large end and a small end. The tube tapering machine adopts the cold forging method to forge and shrink and can process iron tubes, aluminum tubes, copper tubes, etc. into various tapering tubes. This pipe tapering machine is widely used in automobiles, furniture lighting, bicycles, and small taper forming processing for grouting. Contact YG tapering pipe end forming machine manufacturer to get the pipe tapering machine price.
Applicable Industry
The pipe tapering machine has a very wide range of applications in auto parts, furniture, leisure products, air conditioning accessories, sports equipment, and other fields. It can be used to process furniture, golf clubs, fence handrails, tables and chairs, lamp posts, decorative pipes, etc. YG also supplies other pipe-shrinking machines, such as hose crimping machines, and tube end forming machine.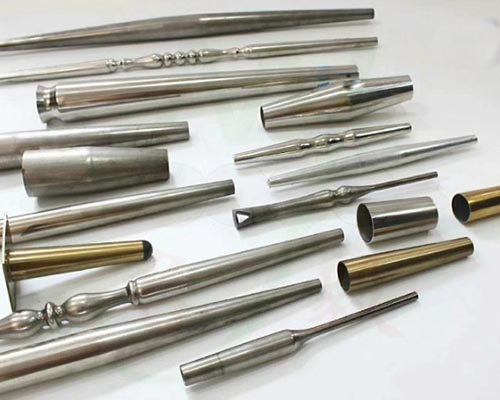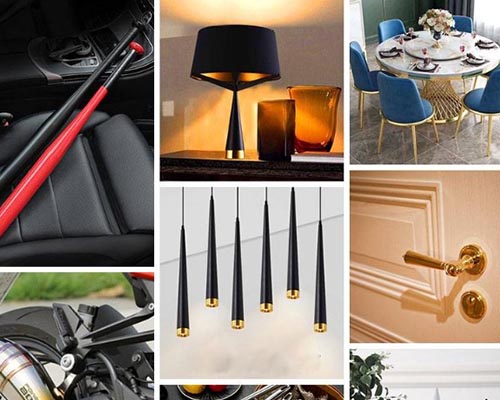 How Does the Pipe Tapering Machine Work?
The conical tube shrinking machine is driven by the transmission gear to rotate the forging of the tube. The motor drives the V-belt to rotate, thereby driving the main shaft to rotate. Therefore, the impact block in the main shaft and the mold generate centrifugal force, and the cone tube action is completed under the rotation of the needle roller. The tapering pipe end forming machine forges tube fittings into cylindrical or conical shapes and other shapes by cold forging. Under the action of the mold, the equipment can forge pipe fittings into workpieces of different sizes.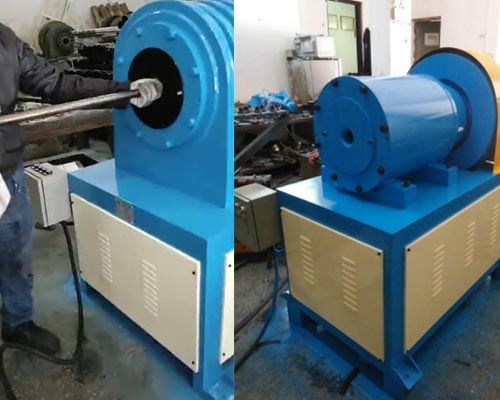 Parameters of Tube Tapering Machine
| | | | | |
| --- | --- | --- | --- | --- |
| Model | YG-40 | YG-50 | YG-60 | YG-70 |
| Shrinkage capacity | Φ40*2.0MM | Φ50*2.0MM | Φ60*2.0MM | Φ70*2.0MM |
| Maximum pipe length | 300mm | 400mm | 400mm | 450mm |
| Molding Time | 5~30 | 5~50 | 10~60 | 15~70 |
| Spindle speed(r/min) | 175 | 175 | 150 | 150 |
| Oversize size(mm) | 800*600*900 | 1020*620*1100 | 1100*1100*1600 | 1100*1100*1600 |
| Weight | 600 | 600 | 1000 | 1300 |
Pipe Tapering Machine Features
The pipe tapering machine can change different molds to process workpieces of different sizes.
YG tapered tube shrinking machine manufacturers can make molds according to the drawings provided by customers.
The surface of the processed conical pipe fittings is bright, smooth, and free of burrs and scratches.
This tapering pipe end forming machine is equipped with a closed-loop system to ensure the long-term operation of the equipment.
Widely used in sports, hardware, automobiles, daily decoration, and other fields.
The fuselage adopts forged cast iron, which has the characteristics of wear resistance, shock resistance, and stable performance.