In mid-September, the YG egg tray making machine manufacturer sold a set of paper egg tray making machine to Zimbabwe. The pulp egg tray production line can meet the customer's production of 1500PCS egg trays per hour. The pulp egg tray making machine can close the mold 6~7 times per minute, and one tray can produce 4 egg trays. In addition, YG engineering machinery manufacturer also offers a variety of other egg tray machine models. If you want to know the price of the egg tray machine, please contact us for a quote.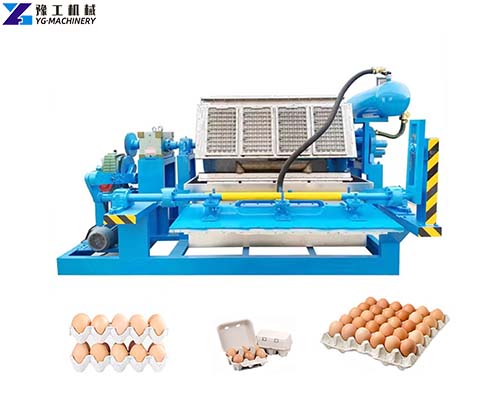 Related: Small egg tray making machine price in Turkey
1500PCS Zimbabwe Egg Tray Making Machine Configure
Name
Technical parameters
Qty
Picture
Remark
Forming machine YG-4×1
3kw motor
1
Control cabinet: 1pc Weight: 1200kgSize: 2680*2200*1900mm
Vacuum pump
Model-13 4-11kw
1
Weight: 594kgSize: 1370*520*900mm
Air compressor
1m³ 7.5kw
1
Weight: 200kgSize: 1200*500*800mm
Forming mold(plastic)
30(295*295)
4
The machine comes with 30pcs egg tray molds
Transfer
30
4
mold(plastic)
(295*295)
4
Pulper
1m3 7.5kw
1
Weight: 450kgSize: 1550*1400*1500m
Slurry mixing
3kw
1
Weight: 120kgSize: 1280*370*400mm
Slurry pump
A 3-inch slurry pump with a 3kw motor
1
Weight: 100kgSize: 750*300*600mm
Sewage pump
1.1kw
1
Weight: 30kgSize: 380*250*200mm
Car washer
1.6kw
1
Weight: 30kgSize: 600*400*400mm
Stirring wings
pulp tank
1
Weight: 50kgSize: 1500*2000mm
Slurry pump pipe
1
Weight: 20kg Length: 2200mm
Transparent steel tube
some
Match the machine
Other Applications of Egg Tray Machine
This Zimbabwe egg tray machine can not only make egg trays, but it also has other wide range of applications. The equipment can also produce coffee trays, fruit trays, electronic tooling bag linings, nursery cups, and other products. YG waste paper pulp egg tray machine has high automation, low energy consumption, and low labor cost, and is welcomed by domestic and foreign customers.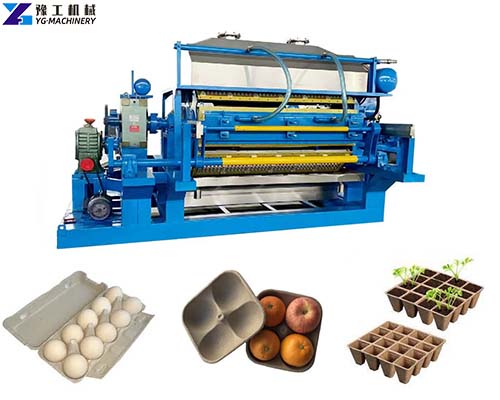 How to Make an Egg Tray with an Egg Tray Machine?
The raw materials for producing egg trays are all kinds of waste paper, waste newspapers, waste corrugated paper, waste paper scraps, waste paper pulp from paper mills, etc.
The first step in making egg trays is to pour waste paper into a pulper and shred it.
Transport the beaten pulp to the pulp storage tank through the pulping pipe, and after stirring, the transport pump transports the pulp to the box of the egg tray machine.
The egg tray making machine adsorbs the pulp to a specific mold and dewaters it through a vacuum pump.
Put the formed wet egg tray into the drying equipment to dry to get the perfect egg tray.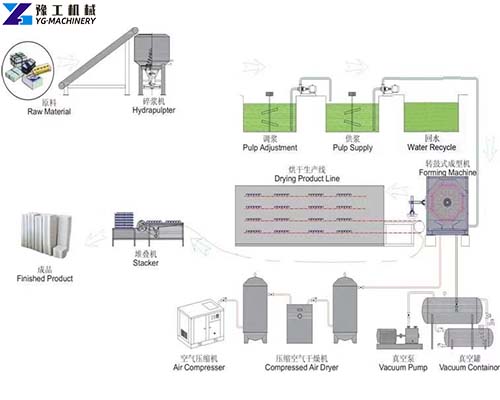 Other Supporting Equipment Recommended
If you want to make a paper egg tray, then you need a pulper, egg tray machine, egg tray dryer (optional), and other equipment. And if you want to make plastic egg trays, then you need a plastic egg tray machine. Contact us for equipment recommendations and quotes.