With the development of modern industry, there are various ways to generate dust, and the accumulation of dust is gradually increasing. Includes industrial emissions, combustion smoke, soil dust, mine blasting, drilling, etc. will all generate dust. Too much dust can damage the environment and human health and needs to be contained. The fog cannon dust suppression is an important device for dust suppression. It achieves the purpose of suppressing dust by spraying water mist and combining it with dust. The fog cannon dust suppression system is widely welcomed by customers because of its convenient movement, simple operation, and wide application range.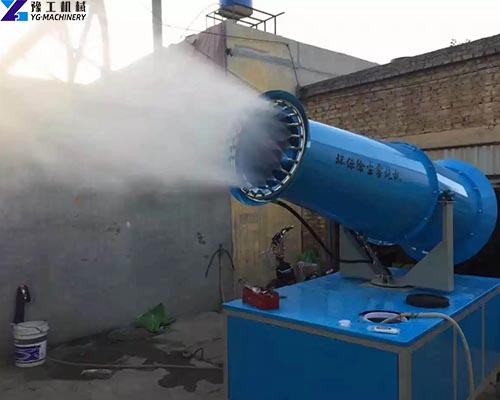 60 Model Fog Cannon Dust Suppression Parameters
| | |
| --- | --- |
| Machine Size | 1.95*1.2*2.0 |
| Double impeller | 18 PCS |
| Fan motor | 11kw |
| Water pump motor | 5.5kw |
| Pump flow | 80L/MIN |
| Shell | Thick metal shell |
| Effective range | 55~60M |
| Operation | Manual, semi-automatic, fully automatic |
| The stainless steel water ring | Nozzle 24 pcs |
| Pitch angle | 0~60℃ |
| Maximum Rotation Angle | 320℃ |
| Tank capacity | 600L |
| Power Equipment | 380V |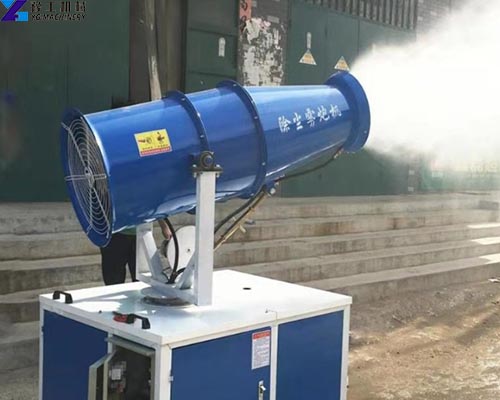 Small Mist Cannon Dust Suppression Application
The small mist cannon dust suppression machine can be sprayed with water or pesticides. Therefore, it can realize the functions of dust suppression, disinfection, and epidemic prevention. It is worth noting that YG also provides thermal fogging machines for mosquitoes. Environmentally friendly fog cannons can be used in many places such as rock mining sites, coal preparation sites, mining areas, dams, and highway bridges. It can also match a variety of functional sprinklers.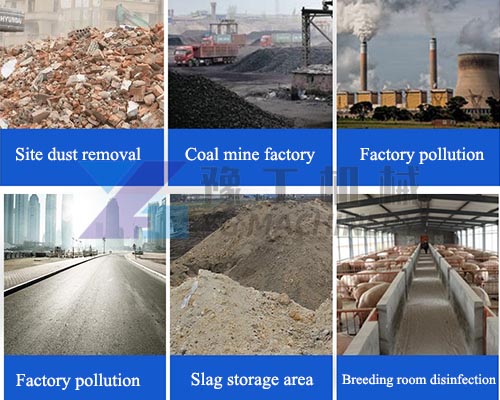 Related Post

Dust Suppression System Applies in Coal Handling Plant
How Does the Dust Suppression System Suppress Dust?
Dust Suppression Fog Cannon Features
Wide coverage, can achieve precise spraying;
Long range, high work efficiency, fast spray speed;
Wide range of applications. The mist cannon dust suppression machine is widely used in dust suppression, disinfection, cooling, and other purposes;
When spraying water on a storage yard that is prone to dust to remove dust, the sprayed mist particles are fine. And it is easier to combine with the dust in the air, which can quickly reduce dust.
It can be used with various types of vehicles such as light trucks, tractors, and sprinklers. Alternatively, it can also be mounted on a concrete pouring platform.
The fog cannon dust suppression system can be controlled remotely or manually. And the spray angle can be controlled at will.