Thermal Fogging Machine Price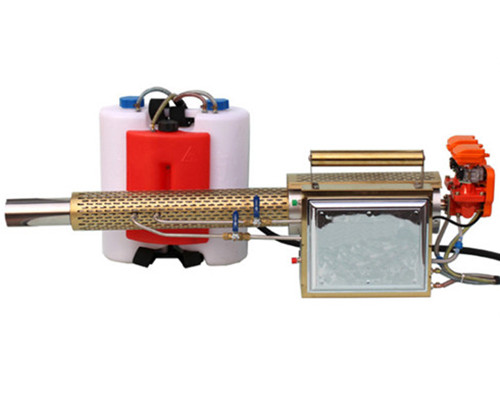 What is Thermal Fogging Machine?
The dual-purpose smoke and mist thermal fogging machine is fueled by gasoline. During operation, the high-temperature and high-pressure air flow generated by the pulse engine is ejected at a high speed from the outlet of the nozzle. After opening the medicine valve, the air pressure in the medicine box hydraulically presses the medicine into the explosion tube and mixes it with the high-temperature and high-speed airflow. At the moment of encounter, the medicine liquid is smashed and atomized into smoke or mist, sprayed from the nozzle, and quickly diffused. When the controlled object is exposed to mist or smoke, portable thermal fogging machine can kill insects or sterilize.
In the current global emergency to fight against the COVID-19. If your factories, office buildings, supermarkets, etc. need to resume production, YG thermal fogging sprayer will be your ideal choice. Please feel free to contact us to get thermal fogging machine for sale price.
Thermal Fogger Machine Parameter
| | |
| --- | --- |
| Type | Tank in shoulder and sprayer in hand |
| Solution tank capacity | 16L |
| Oil tank capacity | 2L |
| Battery | 12V rechargeable battery |
| Fuel | 92 # or above pure gasoline |
| Spray volume | 12L/H |
| Machine size | 1140*240*330(mm) |
Why Do You Need to Buy Portable Thermal Fogging Machine?
At present, the epidemic situation of COVID-19 pneumonia is still in a critical period. All countries and regions are actively responding to the arrangements for epidemic prevention work. At the same time, deploying production and operation and epidemic prevention work in a unified manner.
First of all, do a good job in mask protection, equip with disinfectant, alcohol, hand sanitizer, thermometer, disposable gloves and other protective equipment. So as to provide safety guarantee for employees returning to work.
Secondly, do a good job in the disinfection work of each department. Responsible personnel in each area should do disinfection and ventilation of the area on time.
Meanwhile, disinfect the plant area every day. Use YG pulse jet fogging machine to disinfect the plant area on time to ensure the safety of the working environment. In a word, buy smoke&mist fog generator sprayer is very necessary. Feel free to contact us to get thermal fogger machine price. The picture below shows that the YG staff is using the thermal fog generator machine for disinfection.
Application of Pulse Fogging Machine
Automatic thermal fogging sprayer is widely used in sanitation, anti-epidemic and disinfection in various places. Such as the disinfection and sterilization of urban underpass, garbage dump, toilets, warehouses, stations, docks, airports, etc. At the same time, as agricultural machinery, portable thermal fogger machine is widely used in greenhouse, agriculture, forestry, orchard, grassland and urban environmental protection. As well as the application of chemical fertilizer, disinfection and sterilization of open-air crops. Such as the insecticide and sterilization of fruit trees, corn, rice, wheat, citrus and other crops.
In addition, the portable smoke thermal fogger machine can be used to kill insects in forest trees. Because the thermal fogging sprayer machine has the characteristics of a large dispersion area and quick effect. Therefore, thermal fog generator is a better insecticide tool for forest insecticides. Now send your requirement to get pulse thermal fogger machine price. We will reply to you as soon as possible. YG high quality thermal fogging machine for sale at a low price. Click the button to send us your inquiry.
What are the Features of Thermal Fog Generator?
YG thermal fogger sprayer uses the pulse engine of modern new rocket technology. The whole pulse fogging machine has no rotating parts, no lubrication system. Pulse-jet fogging machine has simple structure, low failure rate, small size, lightweight. Simple maintenance, low fuel consumption, and durable. Send your inquiry to us. We will send thermal fogger machine price to you as soon as possible.
At the same time, the smoke and mist dual-purpose portable thermal fogging machine is a very advanced agricultural machinery. Thermal fogging sprayer machine is widely used in agriculture, forestry, animal husbandry, urban sanitation. Large-area epidemic prevention and sterilization of insects in public places. Under the premise of ensuring the requirements of agricultural technology, agricultural machinery should have a wide range of versatility and a high degree of comprehensive utilization. The smoke pulse jet fogging machine just meets this requirement. The smoke thermal fogger machine can improve the utilization rate of agricultural machinery and reduce the operation cost.
Moreover, the mist eliminator is easy to carry, suitable for a wide range of environments. High efficiency. Low cost of medication, prevention and control. Good diffuse, high adhesion. Beautiful, simple, light structure, smooth lines. What's more, convenient operation. If your greenhouse, orchard, etc. need a mist portable thermal fogging sprayer machine to apply pesticides and kill insects, please contact us freely. In particular, YG smoke thermal fogger machine for sale can carry out comprehensive disinfection work for your area. In order to ensure the safety of the surrounding environment and the safety of people at work.
The Advantages of YG Thermal Fogging Sprayer
When the portable thermal fogging machine is used for epidemic prevention and disinfection and agricultural insecticide sterilization. It has the following advantages.
1)Epidemic prevention and sterilization. When the smoke&mist thermal fogger spray machine is used for large-area epidemic prevention and sterilization. The fogging particles sprayed by the mist thermal fogging sprayer are extremely fine with strong adhesion. What's more, it has the advantage of wide coverage and no dead ends. This can improve the efficacy of disinfection. No matter the virus on the ground or the air, there is nowhere to escape.
2)Save time and effort. Pulse thermal fogging machine only takes about 120 minutes per hectare to use this machine to spray medicine, which greatly reduces the labor intensity. Thereby avoiding the disadvantages of the old-fashioned medicine pump. For example, large water requirement, long medicine tube, and extremely inconvenient operation by multiple people.
3)Quick effect. The fine particles produced by the thermal fogging sprayer machine have strong penetration, which can directly pass through the plant canopy to kill insects, kill bacteria and leave no dead angle. You can send email us to get YG thermal fogger machine price now.
4)Improve the quality of fruit. The pesticide spray from thermal fogging sprayer machine is very fine. Especially, no stimulation to the fruit surface, good fruit surface light. At the same time, it can reduce drug residues. Pulse thermal fogging machine is an ideal supporting machine for the development of green and pollution-free vegetables. Fill in the message form below to get thermal fogger machine price now.
Other Products
YG Machinery has a variety of drilling rigs for sale. For example, down the hole drilling rigs machine, water well drilling rig, small water well drilling machine, anchor rig, core drill rig, horizontal directional drilling rig, rotary drilling rig, etc. Now contact us to get the drilling rigs price list. In addition, water bottle filling machine, wet wipes making machine, mask making machine, meltblown making machine. Thermal fogging machine, disinfection fogger mist machine, backpack disinfectant sprayer, disinfection gate, disinfection channel, etc. Contact us now.
Email: admin@yugongengineering.com