Mask Making Machine For Sale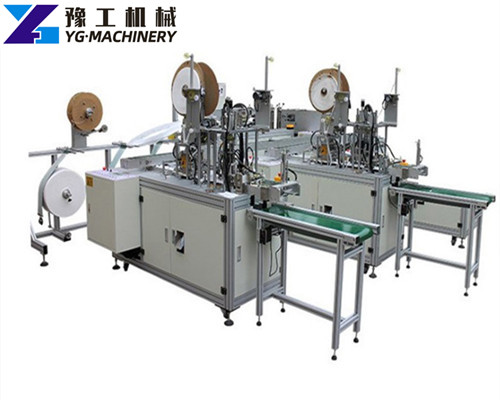 YG mask making machine for sale
The mask machine is a machine that manufactures various masks with a certain filtering performance. Through the processes of multi-layer non-woven cloth hot pressing, folding molding, ultrasonic welding, scrap cutting, and ear loop welding and nose clip welding etc. Ultrasonic mask making machine equipment is not a single machine. It requires the cooperation of multiple machines to complete a variety of different processes. For example, mask punching machine, mask running machine, conveyor belt, ear loop face mask welding machine, nose clip welding machine. YG has high quality&durable face mask making machine for sale. Contact us if you are looking for it.
Currently, the most popular mask making machine equipment on the market includes: N95 mask making machine, disposable face mask machine, surgical mask making machine. Cup mask making machine, non-woven face mask making machine, 3M9001/9002 folding mask making machine. Fish type mask machine, duckbill mask making machine. 3D dust mask making machine, etc.
The mask production process seems simple. In fact, the making mask requires multiple machines to complete. The mask is a kind of flexible product with thin cloth and soft ear belt. Masks are flexible products. Consequently, masks are prone to running pieces, continuous pieces, and stack pieces on the assembly line. At the same time, due to the change in the shape of the raw material after each feeding, the mask will have a series of chain reactions. Therefore, it is the first factor to choose a reliable mask making machine manufacturer. Contact us to purchase mask making equipment now.
How to buy mask manufacturing line?
In modern society, due to the continuous deterioration of the natural environment and the strengthening of people's awareness of protection. The market demand for surgical masks and ordinary disposable face masks is constantly expanding. In addition, due to this year's COVID-19 outbreak, the global market for masks has been in short supply. Naturally, the demand for mask making machines is also rising. Thus, many customers are keenly aware of this business opportunity and want to enter the mask-making industry.
However, since they are not familiar with the mask production process, the procurement of mask raw materials, the selection of n95 mask making machine manufacturers, the planning of mask production workshops. And the industry standards of mask making production. Therefore, some customers seem to be blind and confused when inquiring and consulting relevant information and making relevant budgets.
Therefore, the following is a general introduction to mask machines to help customers who are ready to perform in the mask manufacturing industry have a basic understanding of mask making machines. So you will know how to buy a face mask making machine for sale. At the same time, we can help you plan the mask production workshop. Just feel free to contact us. Here is a customer case of YG flat mask making machine for sale in Sudan.
Mask Making Machine Parameters
| | |
| --- | --- |
| Product name | Fully Automatic Disposable Earloop Mask Making Machine |
| Machine size | 5700*3600*1800mm |
| Machine weight | 1900Kg |
| Voltage | AC220V ±5% 50/60HZ |
| Operation ratio | 99% |
| Yield | ≥98%( Not including the raw materials for undesirable and misoperation) |
| Operating environment | Clean and tidy environment without corrosive gas and harmful dust,degree0°~40° |
Types of face mask
Face masks are simply divided into flat masks and three-dimensional masks in appearance. People use flat masks in the medical industry mostly. And using 3D masks for daily protection mostly. This article mainly introduces the purchase of flat mask making machine (ultrasonic mask making machine) and folding n95 mask making machine. Moreover, if you don't want to make mask by yourself, we can sell various face masks to you. Just tell us your requirements.
Types of face mask making machine
According to the production process, the mask making machine is divided into two types of automatic mask making machine and semi-automatic (manual) mask making machines. In addition, the mask making machine production line series have inner ear belt mask machine production line, outer ear band mask machine production line, lace-up ear belt mask machine production line. YG has high-quality low price mask making machine for sale all the time.
Flat mask making machine manufacturer
Face mask making machine has two types: fully automatic face mask making machine and semi automatic n95 mask making machine. The automatic mask machine is composed of a mask running machine, a conveyor belt, and an ear loop welding machine. The mask running machine processes and shapes the melt-blown cloth, non-woven cloth, metal strip, etc. into a mask piece. Which is transported to the welding machine through the conveyor belt. And then, install an ear strap to the mask piece by face mask loop welding machine.
Due to the fast speed of the mask piece running machine, which can drive multiple mask welding machines. There is a saying of "one drag one plane mask making machine" and "one drag two plane mask machine". Tell us what kind of plane mask machine do you need. Automatic one drag two plane mask machine or cheap semi-auto face mask making machine? Now leave your message, we will send flat or n95 mask making machine price for your reference. By the way, YG Machinery Company has melt-blown fabric machine production line for sale.
YG fully automatic n95 mask making machine for sale
N95 fully automatic folding mask making machine is also known as fully automatic c-type mask making machine, fully automatic disc mask machine, etc. It is a fully automatic machine that produces N95 folding mask production line. Integrated automatic folding mask production line uses ultrasonic technology to weld 3-6 layers of PP non-woven fabric, active carbon and filter materials. And non-woven fabric welding, earband welding, printing, folding, edge sealing, and rolling cutting.
Fully automatic N95 folding mask machine can process 3M 9001, 9002 and other folding masks. According to the different raw materials, the masks can meet different standards such as FFP1, FFP2, N95, etc. What's more, the whole process does not require manual operation. In other words, all of which are produced by mechanization. The finished products are masks we can use it directly. Now contact us to get fully automatic face mask making machine price.
Configuration and characteristics
Automatic folding mask making machine has a high degree of automation. It is controlled by PLC programming without any manual operation. You can use it for mask embossing, ear strap welding, half-folding, opening, trimming, built-in nose bridge, printing, and forming at one time. Moreover, the special production process has clear lines. And it is not deformed during production. Therefore, fully automation face mask machine can minimize the waste of raw materials and effectively ensure the quality of the mask.
Please feel free to contact us if you have any other questions. We are willing to answer your every question about YG mask making machine for sale. In addition, YG has other protective equipment for sale. For example, disinfection door, disinfection channel, home use fogger machine, thermal fogging machine and so on.
Click here to learn melt-blown fabric production line, wet wipes making machine, variety gloves making machine.