YG Flat mask making machine for sale in India
In March and April 2020, it is the time when the global epidemic is very serious. Personal protective weapon- flat or 3D mask has become a scarce product around the world. Therefore, the mask making machine is hot for a while. Many flat mask making machine manufacturers work overtime to produce mask making machines. Many plane mask machine manufacturers that were not originally producing such products also switched to production and began to produce masks, melt-blown fabric, mask machines, and melt-blown fabric cloth production lines. Everyone witnessed the efforts made by everyone to fight the epidemic together. In May, Our India customer Marvin ordered a complete set of plane mask machine production lines from YG.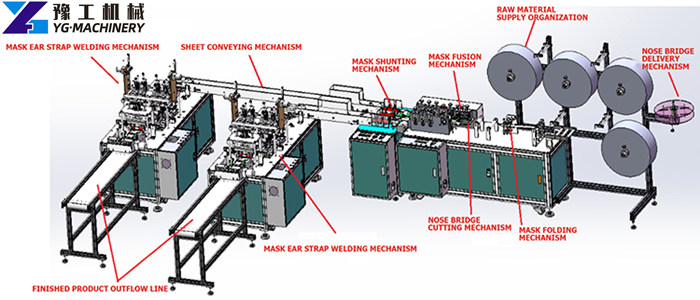 Cooperation process
The cooperation process is like this. In April, we received a message from India on the website. In the message, Marvin said that he wanted to know about the plane mask machine. Because he did not manufacture masks before, so asked if we could provide technical support. After seeing the message, our sales technical manager Louis responded to the email based on the contact information in the message. The email first explained the type of mask machine our company has. Disposable face mask machine, n95 mask making machine, fully automatic face mask making machine, etc.
And then, Louis asked the customer's intentions. In the communication process, according to the needs of customers, budget, the expected effect of the requirements, etc. The automatic one-drag two plane mask machine is recommended.
By sea shipping, customers have received the automatic one drag two plane mask machine in May. Because of the high degree of automation, simple installation, easy operation and detailed instructions attached to the product. It is easy for customers to put the mask making machine into operation. Of course, there are some confused problems in the installation process, which have been solved through timely communication.
Customer Feedback
The customer replied by email that he had been waiting for a while because he didn't know about the market of face mask before. Now he has bought our flat mask machine. It is easy to operate and stable to operate, which shows that his decision is right and his choice of us is right.
As a leading mask making machine manufacturer in China, we thank customers for their trust and will never let them down. We also believe that our product quality can bring considerable benefits to our customers. At the same time, YG company will also keep good communication with customers, solve problems in time, and avoid worries for customers. Know more types of protective equipment.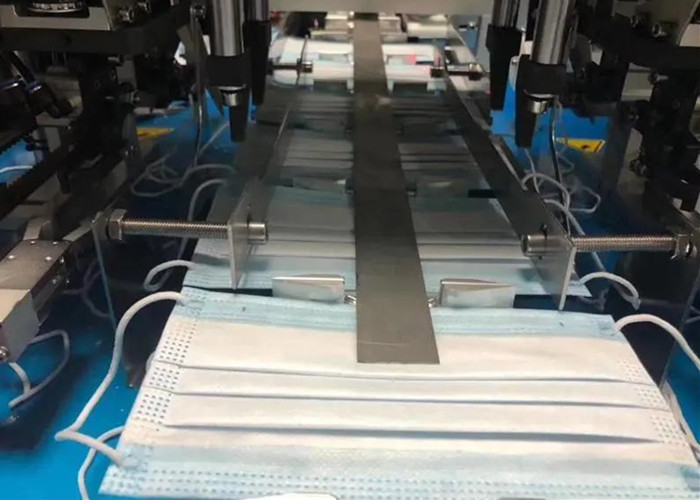 Advantages of automatic one drag two plane mask machine
The flat one-to-two mask machine has a small footprint, and the production speed is fast and stable. High degree of automation, no need for manual operation. Controlled by PLC programming, it can achieve mask embossing, earloop welding, folding, opening, trimming, built-in nose bridge, printing, and forming at one time. The special production process ensures that the lines are clear and not deformed during production, which can minimize the waste of materials. And it effectively guarantees the quality of the masks produced.
The main components of the mask making equipment are imported servo motor, 15K ultrasonic wave, photoelectric detection raw materials, aluminum alloy structure, stainless steel structure, high-quality steel aluminum concentrate, Japan SKD11 imported abrasives, after more than 4,000 procedures, assembled. In order to ensure that the customer has high stability and low failure rate during the use of the flat mask making equipment, each assembly procedure is assembled through repeated testing. YG Engineering Machinery—Best Quality&Best Service.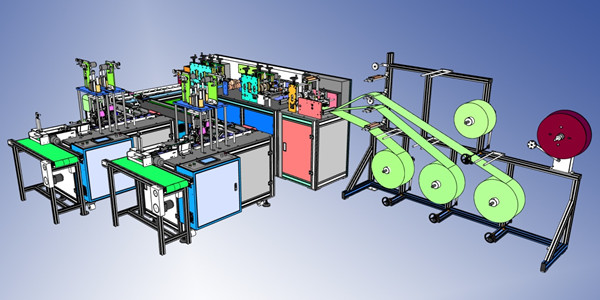 At the same time, YG has the following production line series for sale. Disposable gloves making machine. Nitrile gloves production line. Latex gloves manufacturing machine. PE gloves machinery. Wet wipes making machine. Melt-blown fabric cloth machinery. Face mask manufacturing machinery. Also thermal fogger machine series. Electrostatic backpack sprayer. Room disinfection machines. Nano spray gun. If you are interested in them, please leave your message to tell us.