Melt-Blown Fabric Machine For Sale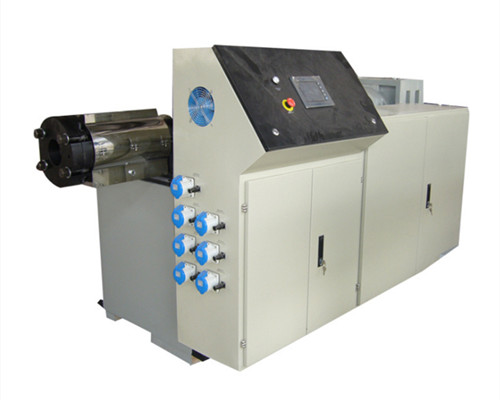 Melt-blown fabric machine production line introduction
The melt-blown fabric production line can produce melt-blown non-woven fabric, PP, PET, ultra-fine fiber non-woven fabric. Focus on good absorption and high elasticity non-woven products. The YG melt-blown fabric manufacturing machine runs steadily, has high output and high efficiency.
Meltblown nonwoven fabric making machine produces non-woven fabric with even, strong strength, good breath-ability, non-toxic and odorless, and meets environmental protection standards.
Main equipment of meltblown making production line
A series of equipment combinations constitute a melt-blown making line. The main equipment includes: feeder, screw extruder, filter, metering pump, melt-blown die head assembly, Roots blower, air heater, receiving device, winding device. In addition, the production of raw materials such as polyester also requires a chip drying device. Production auxiliary equipment mainly includes die head cleaning furnace, static electricity application device and spray device. YG melt-blown machine for sale with the best price. Contact us if you are looking for a reliable melt-blown cloth making machine manufacturer.
Market of melt-blown cloth–serious shortage
As the "heart" of masks, the melt-blown cloth is the most important material for the production of surgical masks and N95 masks. Melt blown fabric is used for the filter layer in the middle of the medical masks. It has good filterability, barrier property, thermal insulation and adsorption. With the outbreak of COVID-19, the mask market is in short supply. Therefore, it is not difficult to understand that the gap of the melt-blown non-woven cloth as the raw material of the mask must be large. Wherefore, many mask manufacturing enterprises are in urgent need of melt-blown fabric stocks. As a result, the price of melt-blown fabric for mask is also rising all the way. The melt-blown fabric price is different every day. Maybe 60,000 US dollars, 80,000 US dollars, or even 100,000 US dollars per ton.
Even if the price is so high, the supply of melt-blown fabric is still tight. Which makes some small-scale mask manufacturers, especially the small and medium-sized enterprises that have just changed to making mask, complain incessantly. The mask manufacturers who can't get the melt-blown cloth have to stop production. The mask manufacturer that grabs the melt-blown cloth at a high price can only insist on production under the pressure of cost. Therefore, it is a good business opportunity to put the melt-blown cloth into production at this time. Because of the COVID-19 epidemic, there is a strong demand for masks now and for a long time to come.
YG melt-blown machine for sale
In order to ensure the stability of melt-blown fabric prices and the supply of mask products. As a manufacturer of protection equipment, Henan YG took advantage of its own production to quickly open up the industrial chain and speed up the pace. And then, our company is fully involving in the production of related equipment for melt-blown fabric manufacturing machine and mask making production lines. If you are interested in the melt-blown cloth make extrusion line, please feel free to contact us.
Melt-blown non-woven fabric production process
There are many processing techniques for non-woven fabrics, such as spun-bond, melt-blown, hot-rolled, spun lace, etc. Among them, the non-woven fabric made by the melt-blown method is called melt-blown non-woven fabric.
The melt-blown method refers to a spinning method in which a high-speed hot airflow is used to rapidly stretch, solidify and shape a polymer melt that has just been extruded. The non-woven fabric fibers produced by the melt-blown method are finer and have a larger surface area. Therefore, it has better filterability, shielding property, heat insulation & oil absorption. These are incomparable to the non-woven fabrics produced by other processes.
Thus, melt-blown cloth has many applications. In addition to the application in medical and industrial mask production. People use it in many fields such as thermal insulation materials, filter materials, medical and hygienic materials, oil-absorbing materials, wiping cloths, battery separators and even sound insulation materials.
The principle of melt-blown cloth production is clear, but the actual production process is more complex. Involving in many disciplines such as polymer science, fluid mechanics, airflow, spinning. In addition, the requirements for the manufacture of melt-blown fabric machine equipment are also relatively high. The key of which is to obtain complete sets of production equipment for melt-blown cloth. YG high quality&stability melt-blown fabric making machine production line for sale with surprise price.