The PET preform injection molding machine is a device that uses plastic raw materials to fill the mold to make PET preforms under a certain temperature and pressure. PET preforms are intermediate products of plastic bottles and oil drums. The PET preform made by injection molding can be formed into cosmetics, medicines, health products, beverage bottles, etc. that are often used in our lives through a PET blowing machine. Yugong PET bottle preform making machine manufacturer provides a variety of injection molding molds. After years of research and development and sales, Yugong has covered 4~144 cavity PET bottle preform production lines. Please contact us and send us a picture of your final formed bottle and we will customize the machine and mold for you.
PET Bottle Preform Mould and Finished Product
Yugong PET preform injection machine can make salad oil preforms, beverage preforms, wide-mouth preforms, cosmetic preforms, medicine preforms, three-gallon, five-gallon preforms, and other preforms.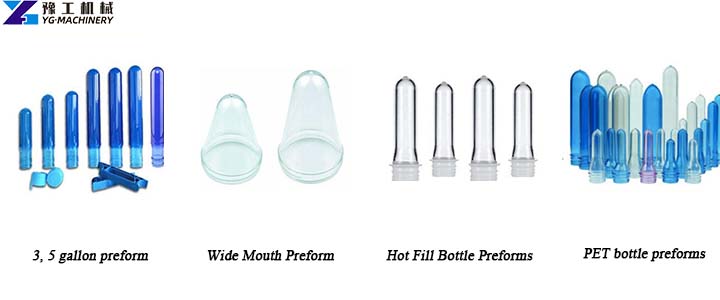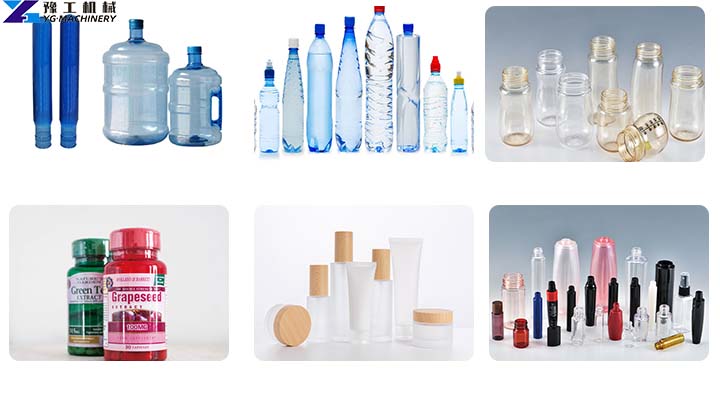 Related: Edible oil bottle making machine
5 Gallon Bottle Blowing Machine
What is the PET Bottle Preform Manufacturing Process?
PET preform injection molding machine is a plastic injection molding machine that directly injects raw materials. It is not necessary to dry the raw material before using the raw material for injection molding. The PET preform machine adopts the molding method of injection and plastic film. The fully melted plastic material is first stirred with a screw and then injected into the mold cavity with high pressure. The material taken into the mold cavity has a certain temperature, and it is attached to the mold and cooled to obtain the finished product. The injection molding method is fast in production, high in efficiency, variable in shape, and accurate in size.
Related: Why use PET for preforms?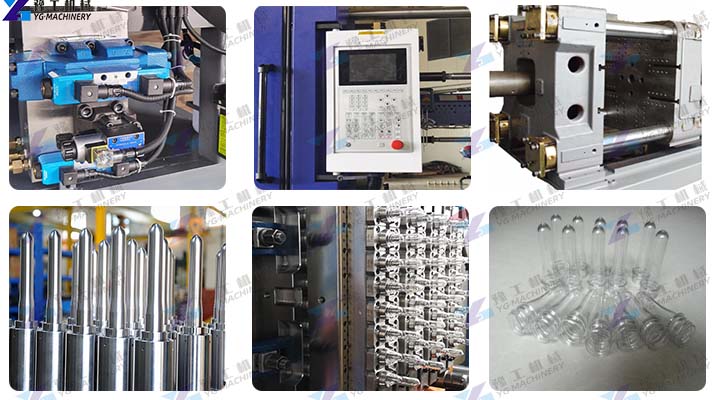 Parameters of PET Bottle Preform Making Machine
Mold
YG~1
YG~2
YG~3
Screw diameter(mm)
65
70
75
Screw L/D ratio(L/D)
22.6
21
19.6
Injection capacity in theory(cm³)
1128
1308
1502
Injection weights(g)
1026
1200
1367
Injection weights(oz)
36.1
41.9
48.2
Injection pressure(Mpa)
182
157
137
Injection rate(g/s)
245
284
326
Plasticizing capacity(g/s)
33
41
49
Screw speed(rpm)
136
136
136
Clamping unit
Clamping force(KN)
3300
Moving mould-plate stroke(mm)
660
Max mould height(mm)
750
Min mould height(mm)
250
Space between tie-bars(mm)
720*670
Hydraulic ejector force(KN)
125
Hydraulic ejector stroke(mm)
180
Ejector number(n)
13
Other
Pump pressure(Mpa)
16
Motor/Driving power(KW)
30/37
Heating capacity(KW)
23.15
Machine dimension(m)
7.20*1.77*2.18
Machine weight(t)
11.5
Oil tank capacity(L)
680
PET preform making machine parameters
PET Bottle Preform Injection Molding Machine Advantages
A variety of mold options can be customized
Yugong provides a variety of injection molds, with a variety of designs and colors, the shapes can be from simple to complex, and the injection molding size is accurate. The preforms made from these molds can be widely used in packaging fields such as beverages, edible oils, condiments, thin-walled, daily chemicals, and medicines at home and abroad.
Driven by a servo motor, the response speed is fast, and the start-up time is 50% higher than that of traditional injection.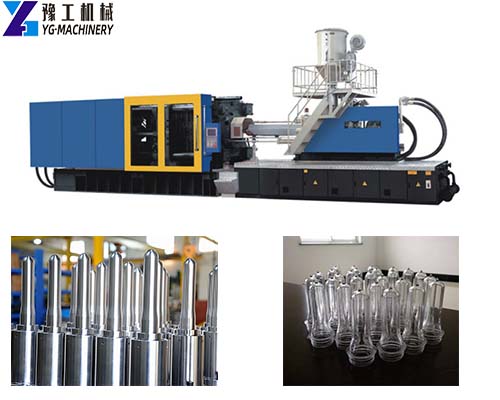 Good molding shape, high precision, and strong stability
The pressure and flow are controlled by a closed loop. Compared with the traditional injection molding machine, the molding precision is clearly improved and the mechanical stability is better.
Energy saving and environmental protection
The whole machine operates with low noise during the working process, and will not cause noise pollution to the surrounding. Compared with the traditional injection molding machine, the machine can save 20~80% energy.
PET Preform Making Machine FAQ
What is the melt temperature?
270~295℃, the enhanced GF-PET can be set to 290-315℃, etc.
Can the mold be customized?
Yes, Yugong PET bottle preform injection molding machine manufacturer provides mold customization service. You can send us your mold style and size, and we will help you customize the mold.
What are the requirements for the injection speed?
The injection speed is generally required to be faster, but not too fast. Fast injection speed can prevent solidification, but too fast will make the material brittle, generally completed within 4 seconds.
Are there any requirements for the raw material size of injection molding?
The size of the raw material for injection molding should not be too large, otherwise, it will affect the effect of plasticization.
Relative PET Bottle Machines
YG Machinery Manufacturer has focused on progress and development in the field of water and beverage filling for many years. After years of development, Yugong has formed a complete water bottle production and filling system. It provides a guarantee for customers to realize the whole chain service from filling material production to water filling finished products. Yugong Machinery Manufacturer provides PET preform injection molding machine, injection mold, dehumidification drying system, PET hot runner, cold mold, bottle blowing machine, water bottle filling machine, and other equipment. And now YG PET preform making machine is popular in India. If you specialize in any of these industries and need specialized equipment, please leave us a message. Yugong Machinery Manufacturer will provide you with professional services and high-quality equipment.