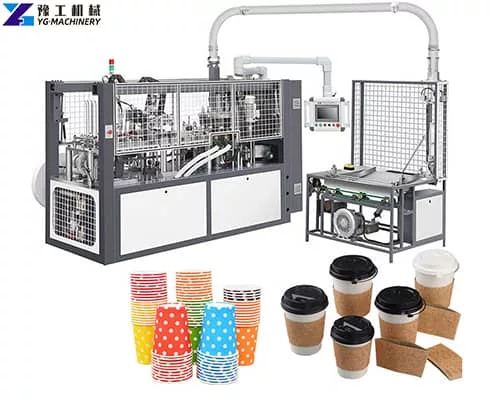 Are you looking for an automatic paper cup forming machine for your paper cup making business? YG paper cup machinery manufacturer introduces this multi-station automatic cup-forming machine to you. The equipment has many functions such as automatic paper feeding, sealing, oil filling, bottom punching, heating, knurling, curling, and so on. It can use single-coated, double-coated base paper to produce paper containers such as paper tea cups, paper coffee cups, and paper ice cream cups. The high-speed paper cup-forming machine has the characteristics of automatic production, high production efficiency, and high stability. It is the ideal paper cup production equipment for major paper cup manufacturers.
3 Types Of Paper Cup Forming Machine For Sale
According to the production capacity, YG provides paper cup forming machines with three capacities: 70-90pcs/min 90-120pcs/min 120-150pcs/min. These three paper cup manufacturing machines are YG's best-selling models. In addition, YG also offers other low-speed and high-speed machines.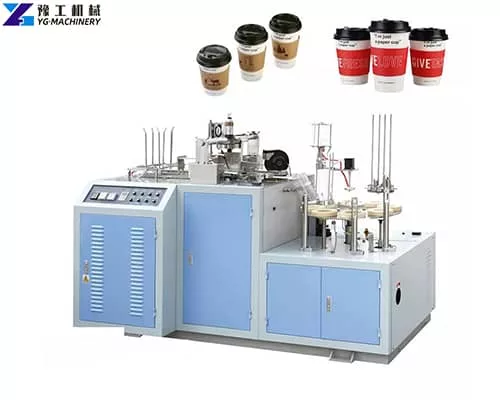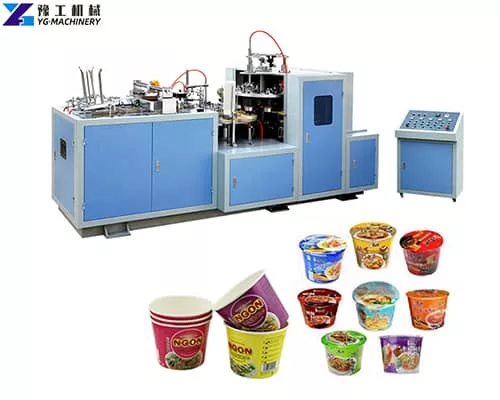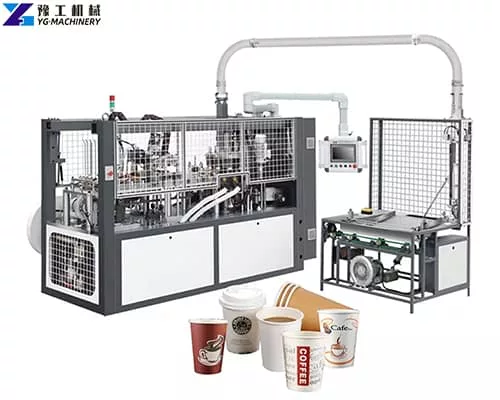 | | | | |
| --- | --- | --- | --- |
| Model | YG-DP16 | YG – Gs120 | YG – 160S |
| Production speed | 70-90 pcs/min | 90-120 pcs/min | 120-150 pcs/min |
| Voltage | 380V/50hz three phase | 380V/50hz three phase | 380V,25KW three phase |
| Paper cup specifications | 3oz-12oz | 3-16oz | 3-16oz |
| Machine package size | 2150x1100x1750mm(L*W*H) | 2180x1050x1600mm(L*W*H) | 2800mm*1100mm*1800mm(L*W*H) |
| Paper stock | 160-350g Single/ double PE coated paper | 150-350g/㎡;±20g/㎡ | 150-350g/㎡;±20g/㎡ |
| Power | 7.8KW | 7kw | |
| Weight | 1700Kg | 2100kg | 4000 kg |
| Paper raw materials | 160-350g | 150-350g | 150-350g |
What Cup Sizes Can the Cup Forming Machine Make?
Paper cups on the market are divided into small cups, medium cups, and large cups. They generally range in size from 5 to 9 oz. The paper cup forming machine provided by YG can produce common cup shapes such as 2-9 oz, and 3-16 oz paper cups. In addition, YG also helped other customers to create extra-large 22-ounce paper cups. So if you have special needs, please let us know.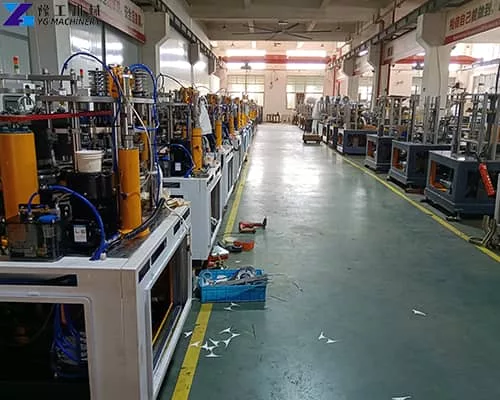 How Paper Cups Are Formed?
All paper cup forming steps such as feeding, printing, cutting, positioning, bottom punching, and bonding can be completed on one paper cup forming machine. Before using a disposable cup making machine to form it, you need to purchase the paper that will form the cup's body and bottom. If your budget and space are sufficient, then you can buy a complete set of paper cup making equipment. They are printing machines, die cutting/punching machines, paper cup forming machines, and other equipment.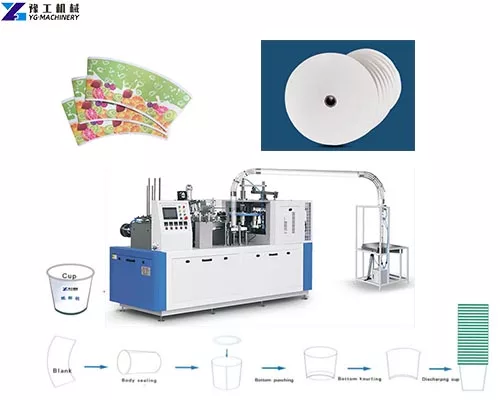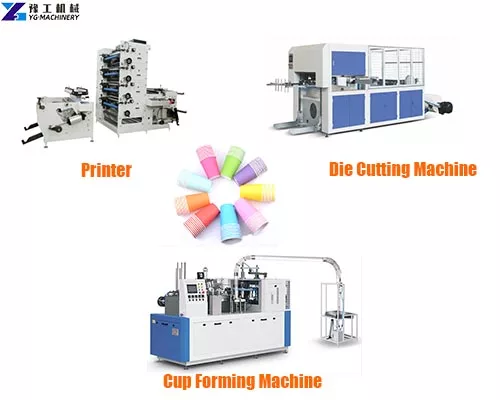 How About Paper Cup Forming Machine Price?
YG is a manufacturer specializing in paper cups, paper bowl machines, paper straw machines, paper plate machines, and other equipment. YG manufacturers directly supply to end customers at factory prices, which has a very large price advantage. The above three best-selling paper cup making machine types are widely sold in every corner of the world. YG's paper cup-forming machines have been exported to Vietnam, the United States, Italy, Indonesia, Lebanon, Korea, Senegal, Sweden, Brazil, UAE, and many other countries. If you want to know the price of the paper cup forming machine, please leave us a message.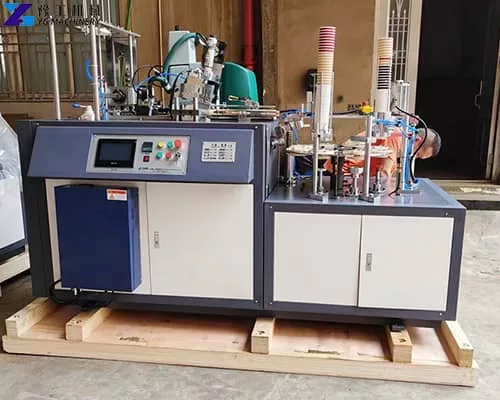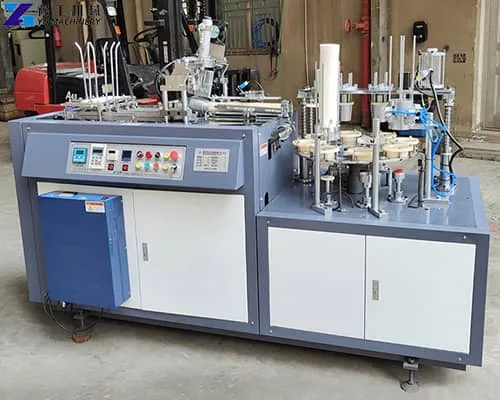 Automatic Cup Forming Machine Features
It has a high production efficiency, and the production of paper cups per minute can reach up to 150pcs/min.
The produced paper cups are good in shape, friendly to the environment, and have a very wide range of applications
YG provides a complete set of paper cup production equipment, such as printing machines, die-cutting machines, paper cup sleeve machines, and other equipment.
The cup forming machine has a compact structure and can be operated by one person, saving labor.
Its automatic lubricating system ensures the long-term high-speed operation of the equipment with low noise.
The forming mold can be customized, and YG can customize the paper cup forming mold according to the production needs of customers.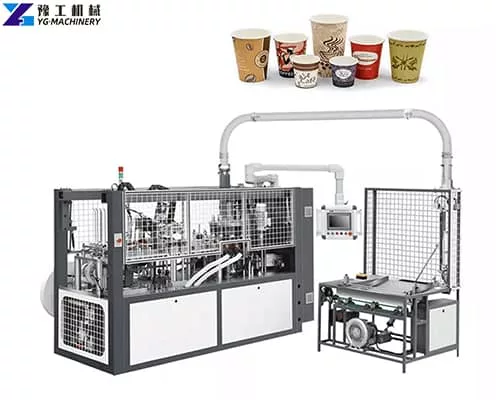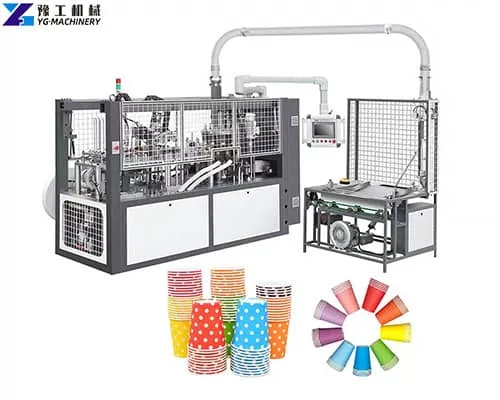 FAQ Of Paper Cup Forming Machine
How many paper cups can one ton of paper produce?
Taking 190gsm paper as the standard, 7oz can produce about 290,000 paper cups, and 8oz can produce about 230,000 paper cups.
Do you provide paper for making paper cups?
Yes, we also offer.
How do you ship the paper cup machine?
We can help customers to transport the equipment, and all equipment is packed in export wooden boxes.
How long is the machine warranty?
YG provides customers with a one-year machine warranty period. For any problems that occur during the warranty period without human operation, YG supports free online support.
What other equipment do you supply for making paper cups?
Yes, YG provides customers with a one-stop shopping experience. We provide the whole paper cup production line: printing machine + die-cutting machine + paper cup machine + packaging machine.
What kind of after-sales service do you provide?
YG provides comprehensive after-sales service to all customers. Any problems after you receive the machine, please contact YG, we will respond quickly and provide you with solutions.