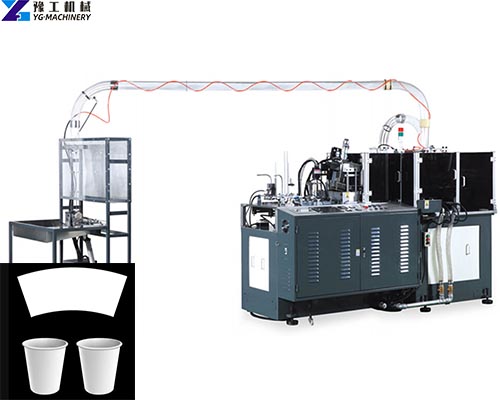 YG paper cup making machine can make 3-16 oz paper cups. It uses single-coated or double-coated paper as raw material to make paper cups, tea cups, and coffee cups. YG's paper cup machines are widely welcomed by domestic and foreign customers because of their high production efficiency and competitive prices. YG paper cup making machines have been exported to France, Germany, United Arab Emirates, Saudi Arabia, Singapore, and other countries and regions. Recently, YG exported a 100-120pcs/min paper cup machine to Italy. The details of this paper cup machine order are as follows.
Italy Paper Cup Machine Parameters
| | |
| --- | --- |
| Model | YG-SMD90 |
| Paper cup size | 3-16OZ |
| Speed | 100-120 pcs/min |
| Top Diameter | 45mm(min)-90mm(max) |
| Bottom Diameter | 35mm(min)-70mm(max) |
| Height | 32mm(min)-135mm(max) |
| Raw material | 160-300 GRAM |
| Configuration | Ultrasonic & Hot air system |
| Output | 6KW,380V/220V,60HZ/50HZ |
| Air compressor | 0.4 M³/Min 0.5MPA |
| Net weight | 1700kg |
| Dimension of machine | 2200×1300 ×1800 MM |
| Dimension of cup collector | 900 ×600 ×1600 MM |
The above is the Italy paper cup machine order details. The customer ordered a medium-speed paper cup machine with a production speed of 100-120pcs/min. This paper cup machine can produce paper cups ranging from 3-16 oz. If you want to know more details about the paper cup machine, please leave us a message.
What Is The Process Of Making Paper Cups?
The production process of paper cups generally includes the following steps:  paper roll-slitting-printing-die cutting-forming-packaging.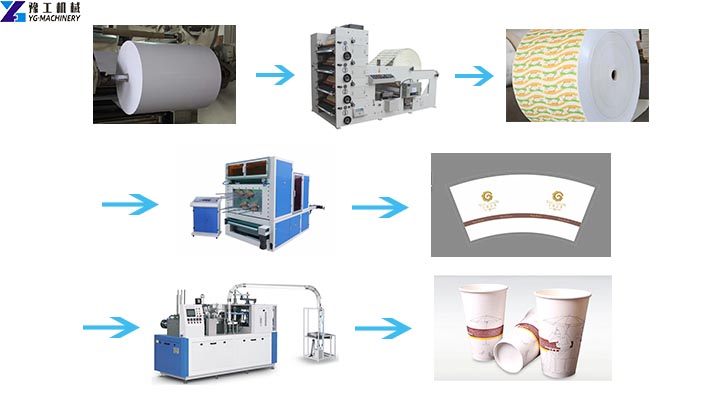 Base paper roll. The base paper roll for paper cups is single-coated PE paper or double-coated PE paper.
Slitting. The cutting step is to cut the coated paper into rectangular paper sheets (for making paper walls) and roll paper (for making cup bottoms).
Printing. Use a paper cup printing machine to print the pattern on a rectangular piece of paper. This step can also be done after die cutting.
Die cutting. This step is to use a die-cutter to die-cut the web into fan-shaped pieces for making paper cups and bowls.
Molding. Put the fan-shaped piece and the rectangular paper piece on the paper cup forming machine, and the machine will automatically weld the two parts into shape.
Packaging. Put the formed paper cups in plastic bags or pack them in cartons.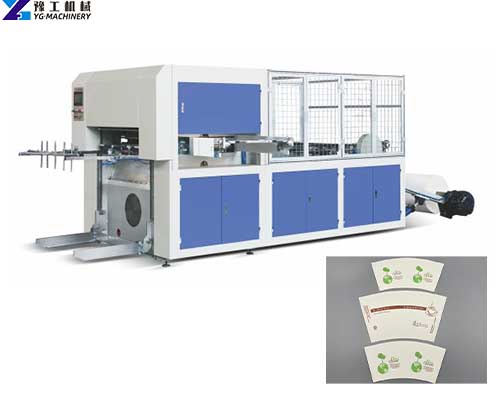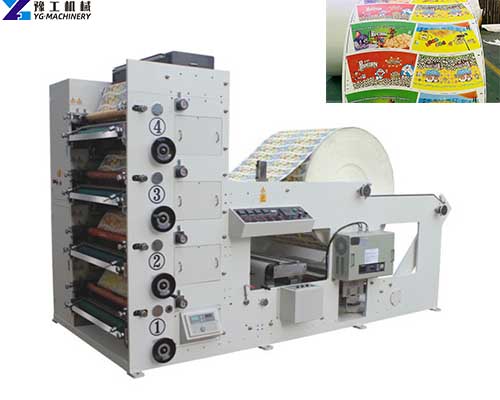 For each step of the production process, there is automated equipment to complete. Therefore, paper cup making machines include slitting machines, printing machines, paper roll die-cutting machines, forming machines, packaging machines, and other equipment.
How To Choose a Paper Cup Manufacturing Machine?
The above has introduced the process and equipment of paper cup making, so how do choose paper cup manufacturing machines for paper cup manufacturers of different scales? The following are recommended paper cup making machines for large, medium, and small manufacturers:
For a large paper cup factory, you already have sufficient production space, funds, personnel, etc. You can choose a complete set of paper cup-making machines to realize your paper cup production.
For a medium-sized paper cup factory, you may have limited space, personnel, and funds. You can choose printing machines, die-cutting machines, molding machines, and other equipment according to your budget. If your budget is sufficient, you can purchase the above three machines to realize automatic production. If your budget is limited, you can directly purchase the printed fan-shaped pieces and form them on a paper cup-forming machine.
For an initial investment and a small factory, we recommend you buy a paper cup-forming machine. YG offers high-speed, medium-speed, and low-speed equipment in three models. Buy a forming machine, and buy die-cut and printed fan-shaped sheets from the market, you are ready to start your paper cup-making business.
If you have any questions about paper cup machines or the paper cup production business, please contact us freely.