Electrostatic backpack sprayer manufacturer
Electrostatic spray disinfection equipment, which uses electrostatic reverse suction to make the back of the sprayed objects also absorb disinfectant. The disinfectant electrostatic sprayer can disinfect the dead corners of the area through extremely strong penetration. Compared with traditional backpack sanitizer sprayers. An electrostatic backpack sprayer can achieve full-range disinfection without dead angles, give full play to the effect of disinfectant. Disinfectant electrostatic sprayer provides assistance for defense against COVID-19 effectively. The YG electrostatic backpack sprayer for sale for epidemic prevention.  If you want to be YG electrostatic sprayer distributors, please contact us freely.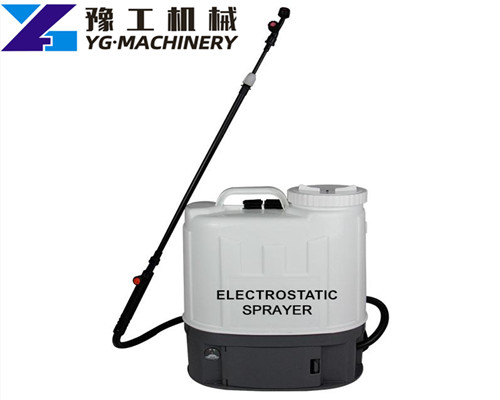 What is a disinfectant electrostatic sprayer?
Backpack disinfectant electrostatic sprayer refers to a sprayer that can produce a significant electrostatic embrace & adsorption effect on the disinfectant mist droplets. "Embracing adsorption effect" is an inherent fundamental characteristic of an electrostatic backpack sprayer. This feature is that an electrostatic backpack sprayer different from ordinary sprays. "Significant" here means that the proportion of the enclosed adsorption effect of sprayed droplets should reach a certain value. We have a cheap electrostatic backpack sanitizer sprayer price for regular clients.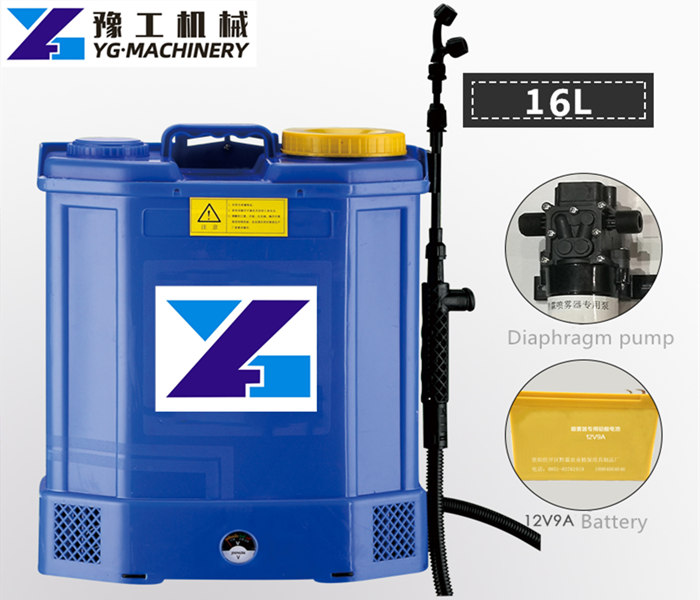 The electrostatic sprayer is mainly composed of an electrostatic nozzle and an electrostatic generator. YG electrostatic backpack sprayer for sale machine working principle is to apply high-voltage static electricity. A high-voltage electrostatic field is formed between the spray head and the target.
When the disinfectant passes through the spray head, high-voltage static electricity is generated. After spraying from the spray head, the disinfectant becomes a mist droplet with a static charge. Under the action of the electrostatic field, the mist droplets make directional movements, and the spray is uniform. And then, fine mist droplets are absorbed in various parts of the target. In addition, we have Thermal Fogging Machine for sale at a cheap price.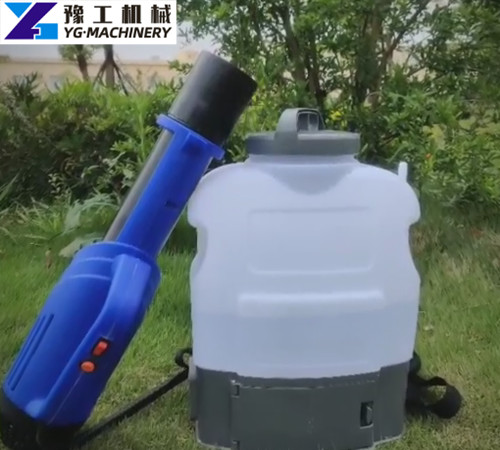 Classification of disinfectant electrostatic sprayer
The realization of the electrostatic spray disinfectant effect is implemented by disinfectant electrostatic sprayer equipment. So, what kind of sprayer system equipment can be called an electrostatic sprayer machine? At present, there are many types of electrostatic spraying systems equipment on the market.
Such as electrostatic backpack sprayer for sale. Boom sprayers, trolley-type electrostatic sprayers. Vehicle-mounted sprayers, electric sprayers, motorized sprayers. Air-driven sprayers, handheld electrostatic sprayer, cordless electrostatic sprayer, and aviation sprayers.
Today we mainly introduce the YG electrostatic backpack sprayer for sale. Click here to learn more about other kinds of disinfectant electrostatic sprayers. Please feel free to leave your message to get electrostatic spraying systems prices.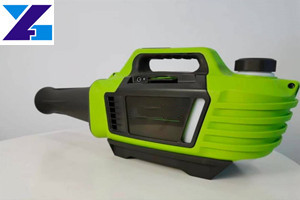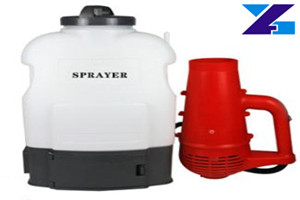 What features of electrostatic backpack sanitizer sprayer?
First of all, disinfection droplets have uniform size, good penetrability, and uniform deposition coverage, especially on the back of the target.
Second, good adhesion, greatly reducing the phenomenon of mist droplets being lost by wind and rain.
And then, less drift loss, the high utilization rate of chemicals. Less environmental pollution. The knapsack electrostatic sprayer has a wide application prospect.
In addition, the disadvantage is that the structure is complicated. And the mechanical cost is higher than that of the ordinary sprayer. Moreover, the safety requirements during operation are high. Contact us to get a low price backpack electrostatic disinfectant sprayer for sale.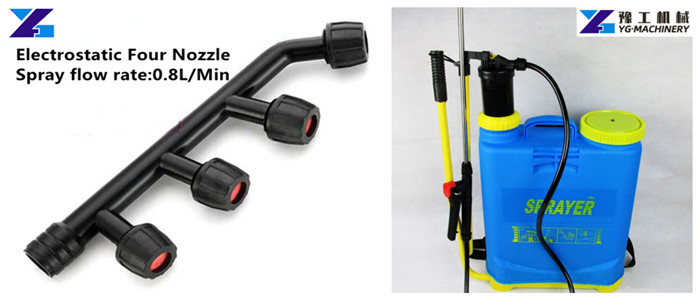 How to buy an electrostatic backpack sprayer for sale?
Henan Yugong(YG) Machinery Co., Ltd has a high-quality electrostatic backpack sanitizer sprayer at a reasonable price. Therefore, if you are looking for an electrostatic backpack sprayer factory or want to be an electrostatic sprayer distributor. YG company will be your ideal choice. There are several methods to contact us.
Firstly, you can send an email to us. Second, you can click the button "Free Quote "to tell us your requirements. Third, you can fill the bottom blank, we will reply to you as soon as possible. And then, if you have Whatsapp/Wechat/Skype/Phone number, please feel free to contact us at +86 13613856800.
Related Products
YG Machinery has a variety of epidemic prevention products to help everyone stay away from viruses and bacteria. For example, electrostatic sprayer for sale, backpack sanitizer sprayer, backpack disinfectant sprayer. Disinfection fogger machine, room disinfection machine, car disinfectant machine. Blu ray anion nanospray gun. Small oxygen concentrator, medical oxygen generator. Home use oxygen concentrator, oxygen generator for home use. Thermal fogger machine, pulse jet fog machine. Pressure swing adsorption oxygen generator. PSA nitrogen generator for sale. Disposable protective gloves for sale. Nitrile gloves making machine. Please contact us if you are interested in them.