Small Scale French Fries Production Line Capacity 50~500kg/h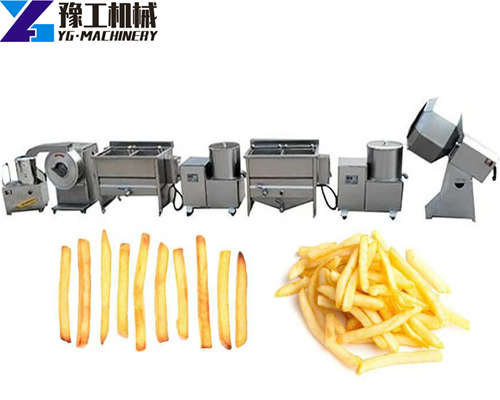 YG French Fries Making Machine For Sale
YG semi automatic French fries production line is a whole line for the production of deep-fried frozen French fries developed for initial openings and small frozen fries production plants. YG potato French fries processing machines are designed and developed to absorb the essence of similar french fries equipment. It retains advantages of large french fries production line equipment. Also, it refers to feedback information used around the world. YG small scale french fries production line has the advantages of less one-time investment, low energy consumption, multiple functions, small size, high profit, and convenient use and maintenance. Contact us to get the semi automatic french fries production line price for your mini french fries plant.
Introduction of Semi Automatic French Fries Production Line
Ingredients: Fresh Potatoes
Final Product: Frozen Packaged Chips
Output range: 50~500kg/h
Blanching and frying method: electric or gas
French fries machine material: all 304 stainless steel
French fries size: 2~12mm, other sizes can be customized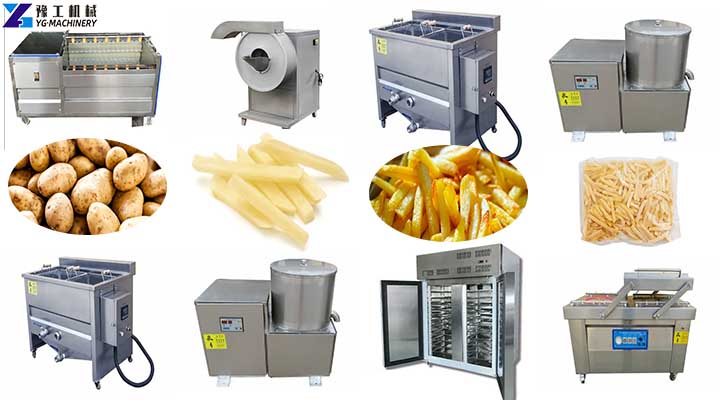 French Fries Manufacturing Process
The complete set of equipment consists of washing and peeling, potato slicer for french fries (strips), blanching, dehydration, oil frying, deoiling, seasoning, chips packaging machine and auxiliary equipment. View this page to know more about french fries production line exported to turkey details.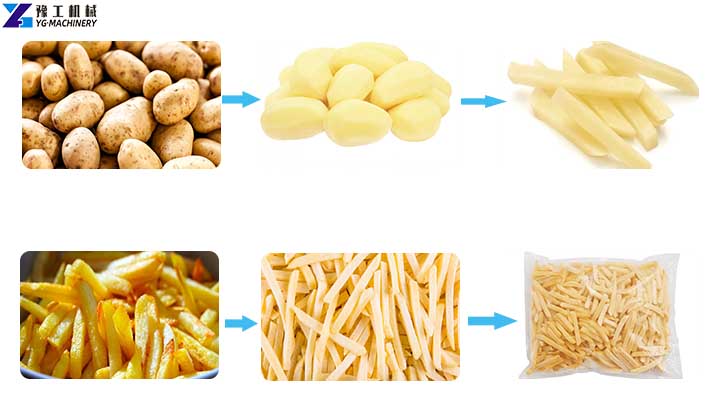 Production Process
Promote potato→washing and peeling→selecting and trimming→promote clean potato →slicing(strip)→rinsing→blanching&protectingcolor→dehydration→frying→deoiling→seasoning→transporting→packing
French Fries Processing Machine Function Introduction
Lift Feeding Machine
(1) Purpose: lift the potato raw materials into the peeling machine for peeling treatment.
(2) Features: stainless steel frame structure, easy to maintain&clean, no rust.
(3)Dimensions:2500*630*1650mm
Power: 0.55kw /380v/ 50Hz
Effective width of conveyor belt: 500 mm
Brush Cleaning Peeling Machine
(1) Purpose: Wash and peel potatoes.
(2) Features: continuousproduction
imported nylon silk wool roller, durable,
stainless steel frame structure.
(3)Dimensions: 2600*850*1650mm
Hair roller length: 1.8 meters
Power: 4.55kw /380v/ 50Hz
Number of hair rollers: 9
French Fries Equipment Picking Line
(1)Purpose: Manually select potatoes that have been cleaned and peeled to remove unclean areas and unqualified materials.
(2) Features: stable operation, stainless steel frame structure, easy maintenance.
(3)Dimensions:4000*730*780mm
Power: 1.5kw /380v/ 50Hz
Effective width of conveyor belt: 500 mm
French Fries Cutting Strip Machine
(1) Purpose: Cut potatoes after washing &peeling.
(2) Features: The blade is durable&runs smoothly. After cutting the strips,
it directly enters the rinsing treatment.
(3)Dimensions:1070*560*900mm
Power: 1.5kw /380v/ 50Hz
Cutting size: 7-10mm Output: 200-300kg/h
Immersion Lifting Machine
(1) Purpose: Rinse the cut potatoes to
remove the starch on the surface.
(2) Features: After potato strips into the
water to prevent the adhesion, the stainless
steel chain mesh belt conveys.
(3)Dimensions:2500*1000*950mm
Total power: 0.55kw /380v/ 50Hz
Effective width of conveyor belt: 800 mm
Hair Roller Cleaning Machine
(1) Purpose: To remove impurities from the cleaned French fries, remove broken pieces and leftovers, etc.
(2) Features: Conveying function, uses a wool roller to remove impurities.
(3) Dimensions:2500*1000*1350mm
(4) Total power: 1.5kw/380v/50hz
(5) Width of wool roller: 800mm
Blanching Line
(1) Purpose: Use water at 60-95°C to blanch
French fries to remove starch&protect color.
(2) Features: Gas heating, integral lifting
function, easy to clean&maintain&clean.
(3)Dimensions:3500*1150*2020mm
Power: 83.55kw /380v/ 50Hz
Transmission: 1.5kw
Circulating water pump: 1.5kw
Air-cooled Dehydration Machine
(1) Purpose: Remove excess water, shorten the subsequent frying time.
(2) Features: Equipped with 4 snail fans, blown away the moisture, preventing oilsplashing&shortening the frying time.
(3)Dimensions:4000*950*1600mm
Power: 3.75kw /380v/ 50Hz
Transmission: 0.75kw Fan: 0.75kw*4 units
Frying Line
(1) Purpose: Fry the cooled French fries.
(2) Features: Gas heating, with oil storage tank with coarse filter, with exhaust hood, 0-220℃ frequency conversion adjustable.
(3) Dimensions:3000*1160*2200mm
Total power: 123.55kw /380v/ 50Hz
Transmission power: 1.5kw, oil pump: 1.5kw
Electric heating power: 120kw
Vibration Deoiling Machine
(1) Dimensions:2000x1450x800mm,
(2) Equipment material: stainless steel
(3) Power: 0.26kw/380v/50Hz
(4) Features: The equipment uses stainless
steel punching, the punching distance is 2-3mm, and the fries after frying are flattened by vibration while removing excess oil on the surface.
Air-cooled Deoiling Machine
(1) Purpose: Remove excess oil, cool down.
(2) Features: Equipped with an oil pan to
collect oil that has been blown off. This saves
oil and makes the French fries taste better
without greasy and convenient storage.
(3)Dimensions:4000*950*1600mm
Total power: 3.75kw /380v/ 50Hz
Transmission: 0.75kw Fan: 0.75*4 units
Tunnel Type Liquid Nitrogen Quick Freezer
Placement form: Place on the conveyor belt.
Frozen feed temperature: 20℃ Frozen discharge temperature: -18℃
Freezing time: 10-30min adjustable
Freezing temperature: -35℃
Cold consumption: 20kw (+35℃/-42℃)
Freezing capacity: 300-400kg/h
Dimensions:4600*1500*1800mm
French Fries Packaging Machine
(1) Purpose: Packaging quick-frozen French fries.
(2) Features: The packaging material uses roll film, and the machine automatically makes bags with an upper seal, lower seal, and back seal.
(3)Dimensions:1500*1100*2100mm
Total power: 4.75kw/380v/50Hz
Small Scale French Fries Production Plant Price
A semi automatic french fries production line consists of many potato processing machines. As these potato processing plants come in many models and with different yields. Therefore, the production of french fries has a wide range. The output range of small semi-automatic french fries line is 50~500kg/h. The price of french fries line for each output is also different. And for the same production line, customers can choose different machine configurations. Therefore, there may be situations where the prices of production lines with the same output are different. If you would like to get a small french fries line cost, please contact us.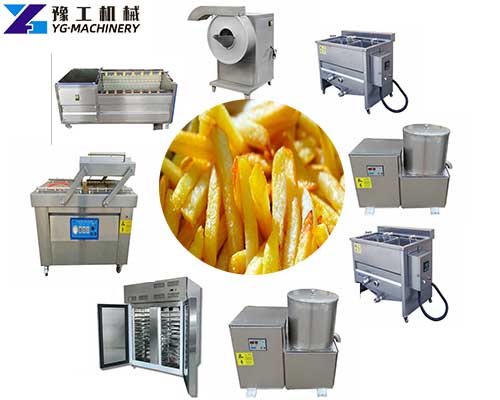 RFQ on French Fries Production
What about the french fries size range?
The french fries cutting machine can cut the size of fries in the range of 2~12mm, and other sizes can be customized.
Why Freeze Before Packaging?
The fries will stick together if they are packaged and then frozen.
Why blanched potato chips before frying?
Potatoes are rich in starch, enzymes and other substances. Blanching kills enzymes to preserve flavor, color and texture; starch gelatinization limits oil absorption during frying, improving the texture of fries.
How many kgs of potatoes can make a kg of French fries?
1.7kg of potatoes can produce one kg of frozen French fries.
What is the production process of french fries?
The above describes the specific production process of french fries, please check it.
What is the french fries production line capacity?
YG French fries production line manufacturers provide 50kg~2t/h french fries line solutions. Among them, the output of 50~500kg/h is a small semi-automatic french fries line, which is suitable for small french fries production plants. The production line above 500kg/h is a fully automatic production line, which is suitable for large-scale French fries manufacturing plants.
How does the machine heat up?
Potato blanching machine and frying machine have two heating methods, electric and gas, you can choose the equipment with suitable heating method according to your needs.
How to buy a french fries processing machine?
First of all, you leave us a message or contact us, we will quote you after obtaining your needs. After signing the purchase contract, we will make the machine for you. Then ship the equipment to your destination by sea or other means of transportation.
How to install equipment?
Whether it is a small or fully automatic french fries production line, the equipment contained in it are all debugged and installed before transportation. Therefore, after you receive the machine, you only need to put the device in a suitable position, then debug and connect the power supply to use.
The above are the questions asked by many customers who purchase Yugong small fries production line. If you are not familiar with some of the above questions or have other questions you would like to ask, please click the button below to leave your question. We will answer you as soon as possible.
Is the French Fries Business Profitable?
For the french fries production business, many people want to start but wonder if the business is profitable. The answer is yes. Because the process of making french fries is very simple. Moreover, the raw materials for this product are also very single and easily available everywhere. And French fries and chips are a favorite of all ages around the world. So no matter where you make your fries, it's ready to sell.
How to Start Your Frozen French Fries Production Business?
In the process of communicating with customers, Yugong French fries production line manufacturer often encounters questions from customers asking how to start a french fries business. Starting a fries business is also very simple. Before starting this business, you first need to develop some strategies to ensure that the fries are sold after they are produced. For example, find factories close to the place where potatoes are produced or sold, and formulate sales strategies. Then there is the search for a reliable french fries machine supplier to buy french fries processing equipment. After receiving the equipment, it can be produced and sold. If you would like to purchase a small french fries production line to start your fries production business, please contact us for details and quotation.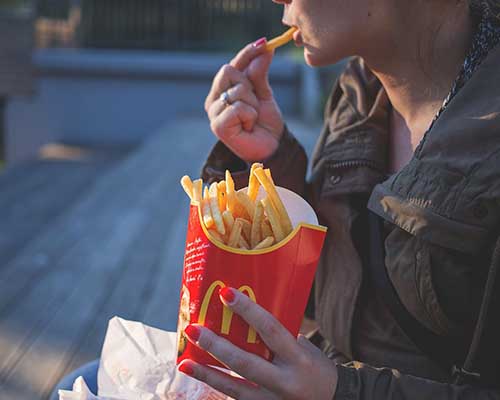 Our Product Series
In recent years, YG French fries making machine has been selling well in many countries and regions at home and abroad. If you are looking for reliable french fries production line manufacturers, we will be your ideal choice. Now please feel free to leave your message. You will get a surprise french fries machine price.
In addition, we have other hot sales production lines for sale. For example, gloves making machine, nitrile gloves making machine. Latex gloves making machine. PE gloves-making machine. Work safety gloves-making machine. Gloves dipping machine. Also, rain boots injection molding machine, wet wipes making machine. Tissue paper-making machine, paper rewinding machine. Diaper manufacturing machine, sanitary napkin-making machine. PSA oxygen generator. PSA nitrogen generator. Paper cup-making machine. Paper cup manufacturing machine. Mask Making Machine, etc. Contact us now.
Email: admin@yugongengineering.com
WhatsApp/WeChat: +86 15037187716