Gloves Knitting Machine For Sale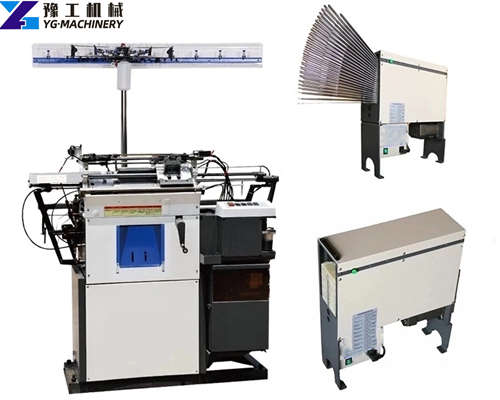 YG Gloves Knitting Machine Manufacturer
The computer glove knitting machine uses the sinker as the knitting principle. The glove knitting machine is controlled by microcomputer technology, using high-quality materials and superb processing technology. It is also equipped with computer box parts and electrical components made in China. It is suitable for a wide range of raw materials and can be knitted in one-time forming.
The glove knitting machine can be arbitrarily set with half-finger, full-finger, ingot finger type labor insurance gloves and anti-freezing and cold-proof elastic fashion gloves. The length can be controlled arbitrarily. Its various technical indicators are comparable to similar advanced models. The glove knitting machine has 7 needles, 10 needles, 13 needles, 15 needles. The size of the glove knitting machine is divided into S, M, and L, with optional automatic selvage function. Click here if you also want to learn about our nitrile gloves making machine for sale or latex gloves making machine.
Parameters
Needle Pitch
7G/10G/13G/15G
Motor Power
220V, 250W
Maximum Speed
Long-stroke120 rpm, Short-stroke 260 rpm
Knitting Speed
Finger

200r/min

, Palm

180r/min

Operating
25–30 pieces/person
Capacity
120 Pairs/8 hour
Weight
250KG
Size
1250*650*1750mm
Seamless Gloves Knitting Machines Performance
Sinker knitting system: The gloves produced are more elastic, tough, and more suitable for the shape of the hand.
Column-type centralized oil supply system: The automatic oil refueling centralized oil supply system can automatically supply oil to various parts, and the maintenance is simple, which enhances the durability and production efficiency of the machine.
Durable needle board: Needle board parts are formed by inserting special high-precision needle inserts after heat treatment.
High-precision machine head: The triangle of the machine head is made of special wear-resistant steel, and is completed at one time by using CNC machining technology. At the same time, vacuum heat treatment technology is adopted, which greatly improves the wear resistance and impact resistance of the machine head. Please feel free to tell us if you want to buy wet wipes production line too.
Why Choose YG Hand Gloves Knitting Machine?
The whole process is controlled by a computer program, keyboard operation, and fabric size can be set arbitrarily.
Simple operation, high stand rate, low labor intensity.
Using frequency conversion technology, the machine runs smoothly and has stable performance.
The inlaid needle bed and sinker device make the fabric more elastic and comfortable.
With a two-color and air-jet device, the fabric is more advanced.
There are self-stop protection devices such as yarn breakage, poor fabric falling, counting, and motor overload to reduce knitting loss. By the way, you can leave your message if you are interested in our disposable gloves production line.
If you are looking for safety gloves knitting machine, YG will be your ideal choice. Please feel free to contact us to get gloves knitting machine price. In addition, we have a tissue paper-making machine & wet wipes production line for sale. Choose professional gloves-making machine manufacturer, Choose YG.
Other Products
YG Machinery has a series of disinfection equipment for sale. Thermal fogging machine, disinfection fogger mist machine, car disinfection fogger machine. Touchless soap dispenser.  Backpack disinfectant sprayer, disinfection door, disinfection channel, luggage UV disinfection tunnel, UV light disinfection robot, automatic sand blasting machine, etc.
Email: admin@yugongengineering.com