The hydraulic shears for excavators are hydraulic shears installed on excavators. The head of the hydraulic shear rotates 360 degrees, and other types of shears can be detached and installed. The hydraulic excavator shear has a strong shearing force and penetrating power. And it has been widely used as a machine for shearing and dismantling various scrap steel materials, scrapped automobiles, ships, workshop steel structures, and other steel scraps.
Why are Hydraulic Shears for Excavators Popular?
For large automobiles and scrap steel cutting, the efficiency of manual cutting is very low. And it may also be exposed to dangerous waste products and some new weak links exposed by environmental protection testing. Therefore, such an excavator is required to replace the traditional manual dismantling work with hydraulic shears. The seemingly bulky hydraulic shears only need ten minutes to complete the workload of four or five workers for several hours under the driving of the excavator. The price of hydraulic shears for such an excavator with high efficiency and good shearing effect is also very competitive. If you are interested in this machine and would like to know the price of this equipment, please click the button below to get a quote.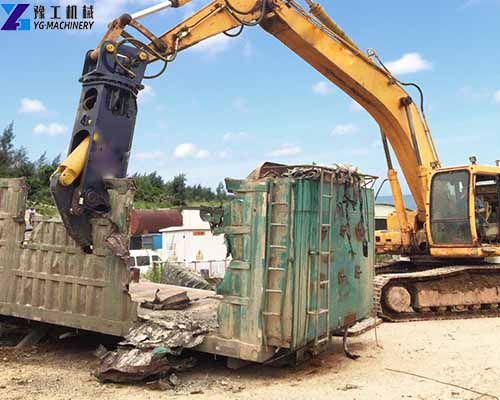 Detachable Hydraulic Shears
The hydraulic shears for the excavator can be customized with the shear head to face and cut different kinds of steel structures. For example, demolition of waste cars, workshops, H, I-shaped steel structure demolition, and shearing treatment of various wastes such as cans and pipes. For the dismantling of different steel structures, Yugong provides a variety of hydraulic shears, such as double-cylinder hydraulic shears, car dismantling shears, rail shears, steel plate shears, multi-functional powerful shears, and mechanical olecranon shears.

Features of Hydraulic Shears for Excavator
The excavator shear is made of a high-strength wear-resistant plate as a whole, which has the characteristics of high strength and large shearing force.
These high-pressure, large-diameter cylinders match with piston cylinder jackets to provide high force while avoiding damage to the piston rod.
The 360-degree rotating and detachable hydraulic shears are more convenient to disassemble and replace.
The two shear plates equip with a synchronous device to realize synchronous opening and closing, and the blades are made of high-toughness and high-strength steel, which has high iron cutting strength.
A variety of custom cutting heads can be replaced and can be used to cut various types of steel, with a very wide range of applications.
The extended-arm excavator equips with a rotatable cutting head, which can cut high or low.