Wet Wipes Machine For Sale in Mexico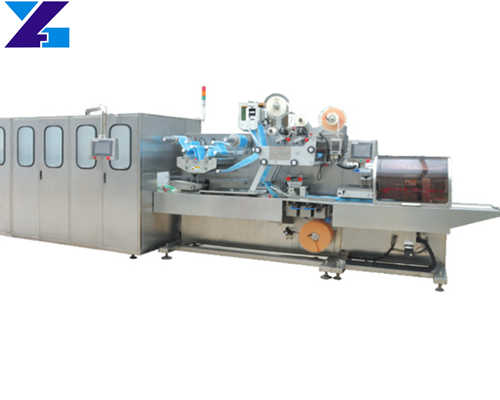 Wet Wipes Machine For Sale in Mexico
On August 10th, the wet wipes machine equipment ordered by a Mexican customer was officially put into production. In the past week, YG wet wipes machine factory is intensively producing related machinery and equipment. We guarantee that the equipment production and assembly will be completed within 45 days of delivery.
The Mexican customer ordered a canister wet wipes machinery. Roll pack wet wipes manufacturing machine is a machine that produces disposable wet wipes in barrels for aviation and catering. With our rich production experience and design concepts, YG has independently developed advanced technologies such as non-woven fabric automatic tapping, automatic winding mandrel extraction, and LCD touch screen intelligent control to develop a roll wipes making machine. Leave your message to get wet wipes machine price.
The Highlight of YG Canister Wet Wipes Machine
1. Two section length setting, accurate winding length. When the set length is reached, the two axes will switch automatically.
2. Using high-performance PLC, the rewinding operation is very simple. The length counting and tension control are accurately displayed by LED.
3. The pneumatic paper tube fixing design is adopted, the paper tube is firm, the loading and unloading is simple and fast. The efficiency is greatly improved.
4. Automatic tail smoothing device (optional equipment) to eliminate wrinkles or bubbles after rewinding. Ensure that the winding of finished products is stable.
5. The pressure wheel is controlled by the cylinder and the pressure position is adjustable. Extrude the semi-finished products correctly to ensure that the semi-finished products are stable and smooth during rewinding.
Configuration of Wet Tissue Machine
Control drive system: Simple touch screen operation, multi-axis servo control, servo precision drive.
Unwinding and unwinding system: Servo driven unwinding belt, the running tension can be adjusted automatically.
Slitting traction mechanism: Adjustable slitting width and traction tension.
Punching and cutting mechanism: Spiral knife synchronous rotary cutting, point cutting length adjustable.
Mandrel winding mechanism: The mandrel circulates automatically, and the number and diameter of winding pieces can be adjusted.
Blowing device: Auxiliary winding, automatic separation and continuous extraction.
Cloth laying mechanism: The cloth roll and mandrel are separated automatically, and the finished cloth roll is output in turn.
Safety assurance system: Fixed, movable and closed protection devices are all in accordance with iso14120:20021.
Optional configuration: Automatic correction system MES management system.
Why Are You Invest in Wet Wipes Machinery?
Recently, more customers have invested in wet wipes machinery. In particular, disinfection wipes series. Much of this is because of the global outbreak of the COVID-19. Wipes can easily and effectively disinfect our faces, hands, and surfaces. Note that if you want to sterilize the skin or the surface of the object, the amount of the wipes should be sufficient to keep the skin or the surface of the object moist for at least 10 seconds. Only in this way can we effectively kill bacteria. If you are interested in wet wipes manufacturing machines, please feel free to contact us.
At the same time, cleaning wipes are also a huge consumption of daily necessities. In particular, the market prospect of baby wipes is very good. Cleaning wipes are mostly alcohol-free because they contain more moisture and have similar "hand washing" effects. Cleaning wipes can effectively clean hands, but the sterilization effect is weak. Most wet paper towels are not packaged separately. Therefore, remember to seal the opening tightly after the wet tissue package is opened, so as to avoid the liquid medicine volatilization in the wet tissue. Click here to know more about wet wipes making machine manufacturer.
About disinfection products, we also have medical gloves making machine, automatic N95 face mask making machine, melt-blown production line, melt-blown fabric cloth. Room disinfection machine, disinfectant fogger machine, blu ray disinfectant spray gun, thermal fogging machine, electrostatic sprayer. Disposable virus sampling tube, touchless hand soap dispenser.