In January this year, Yugong Machinery received an inquiry from a customer in Malaysia about a road marking machine. The client is responsible for a car park project in Malaysia, and he plans to use an automated road marking machine to mark the car park. After more than a month of negotiation and communication, the Malaysian customer finally placed an order at the end of February.
Details of road marking machine project in Malaysia
Since Yugong provides various types of road marking machines, our business manager first confirms the customer's needs after receiving the customer's inquiry. After learning that the customer wanted to mark the parking lot and had high requirements for marking, the YG business manager recommended the thermoplastic parking lot marking machine to the customer. The thermoplastic road painting machine first fuses the hot-melt material in the hot-melt kettle, and then puts the fused material into the thermoplastic road marking painting machine for scribing. Also, the lines drawn by this thermoplastic parking lot line machine can be preserved for a long time. Therefore, the thermoplastic road marking machine can fully meet the needs of the customer.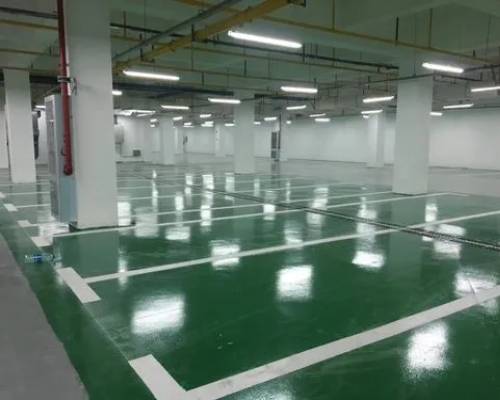 Malaysia parking lot marking
About the parking lot marking machine
Yugong Machinery provides various multi-model parking lot marking machines, such as cold spray marking machines and thermoplastic marking machines. Compared with the thermoplastic-type striping machine, the cold spray-type striper has a simple operation. It just needs to put the scribed paint on the scriber to scribe. In addition, each type of road marking machine, also has a variety of models such as single gun, double gun, hand push, automatic, and so on. The road marking machine of Yugong Machinery can meet the road marking needs of schools, highways, airports, stadiums, and other places. And the length of the road marking can be controlled, and the width can be controlled by changing the marking hoppers of different sizes.
Other related pavement marking equipment
In addition to the road marking machine, Yugong Machinery also provides other matching road marking equipment. For example, old line removal machines, road line sweeping and cleaning machines, hot melt kettles, manhole cover cutting machines, floor shot blasters, concrete scarifier machines, and other machines. Whether you want to mark anywhere on sidewalks, highways, airports, school stadiums, etc., the Yugong road marking machine can meet your needs. If you want to know about road marking machines or other related machines, please contact us.