Blu Ray Anion Nano Spray Gun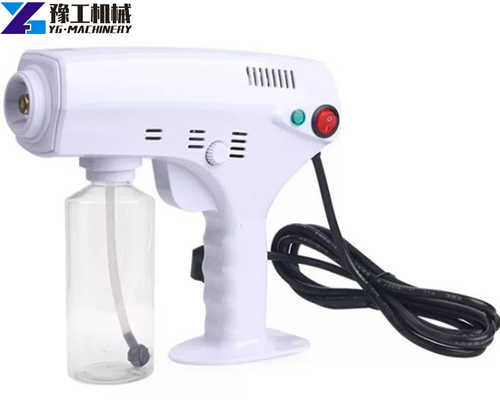 What is blu ray anion nano spray gun?
Blu ray nano disinfection spray gun can effectively disinfect and sterilize. The epidemic is very serious now. To protect your own safety, it is safer to put one in your home or store. People who need to go out every day need this Blu ray nanospray gun to help sterilize effectively. YG disinfection spray guns have plug-in and wireless battery disinfection spray guns. Which one do you need? Welcome to wholesale YG nanospray gun for sterilization.
Specifications
Battery Charging Parameters
| | |
| --- | --- |
| Product Name | Battery Charging Spray Gun |
| Rated Voltage | 110V-240V(universal) |
| Use Time | 3 hours available on one charge |
| Water Bottle Container | 800ML |
| Charge Time | 2 hours |
| Power Supply Voltage | DC12V |
| Battery Capacity | 2600mAh |
| Power | 10W |
Plug-in Charging Parameters
| | |
| --- | --- |
| Product Name | Plug-in Nano Spray Gun |
| Rated Voltage | 110V-240V(universal) |
| Water Temperature | 0-10°/10-20°/20-30° three stages |
| Output Power | 9V/12A/1200W |
| Jet Volume | 22/Min |
| Color | White/Black |
| Input Voltage | 220V |
| Container Capacity | 260ML |
Why choose YG blu ray anion nano spray gun?
YG blu ray anion nano spray gun adopts high-level imported high-speed motor rotor. Also has the latest research technology anion nano nozzle. YG nano disinfectant spray gun can produce 120 million/cm2 blue light sterilization anion. Nano sanitizer spray gun has a large amount of atomization, saves water and electricity, and is not easy to block. Application scenarios include auto interior disinfection, household disinfection, and so on. The nano spray gun has blue light nano-sterilization, disinfection, and repair effects.
What are the features of a nano disinfectant spray gun?
1: This nano mist disinfectant spray gun adopts dynamic nano hydrating water system pressures, transforming water into molecules.
2: Ergonomic handle design: provide a comfortable feeling.
3: Suitable for hair coloring, hair care, and moisturizing face.
4: You can add your favorite essential oils to get several good effects.
5: Disinfection and sterilization: remove odors, they can be used in places that need to be disinfected and cleaned.
6: Massive disinfection spray is sprayed within 30 seconds.
7: The effect is dozens of times higher than that of traditional press spray, and the disinfection effect is better.
8: Sterilization rate is 99.99%. Lightweight and easy to carry!
9: The mist sprayed by the Blu ray handheld nanospray gun will stay in the air, and the disinfection range is wider.
10:The 0.26-nanometer vapor fog molecule is twice that of ordinary sprayers!
Protect yourself! Protect your family!
Blu ray anion nano spray gun instructions
The YG nano mist disinfectant sanitizer spray gun factory recommends using alcohol-free disinfectant to be safer. You can choose disinfectant, bleach, etc. by yourself.
Plug it in. Press the red button to start and wait for the machine to heat up for about 30 seconds. When the green light is on, the disinfection gun can be used to spray a fine mist. (For the plug-in type of handheld nanospray gun)
Blu ray anion nano spray gun application
Nano blue light atomization disinfection device, through the nano blue light, can kill virus strongly. At the same time, the particles are sprayed to cover the whole area and disinfect thoroughly at 360°. Blu ray anion nano spray gun can be used in cars, homes, shops, companies, schools, and beauty salons. For example, the table, stools, menus, utensils, etc. can be atomized and disinfected before eating, which is healthy and safe.
Before going home and entering the house, you can disinfect your palms or whole body. Including clothing, handbags, shoes, etc. In the gym, the fitness equipment can be atomized and disinfected to avoid cross-infection. If you have a shop, you can spray disinfection before guests enter the shop. Convenient and safe.
In addition, if you to disinfect a large area, please browse our related products. Thermal fogging machine for sale, electrostatic backpack sprayer, room disinfection machine, car sanitizer machine.
Related Disinfectant sprayer product
Other Products
YG Machinery has a variety of protective equipment. Includeing, wet wipes-making machine. Thermal fogging machine, disinfection fogger mist machine, backpack disinfectant sprayer. Disinfection gate, disinfection channel. Home use oxygen concentrator, UV light disinfection robot, trolley disinfection tunnel, etc. Contact us now.
Email: admin@yugongengineering.com