YG plastic gloves making machine for sale in Vietnam
A few days ago, the nitrile glove machine ordered by a Vietnamese customer is already in transit. It is expected to arrive at the port of the city where the customer is located in 3 days. After 25 days of negotiation for this order, the customer finally decided to buy YG nitrile plastic glove making machine. Due to the international epidemic, it is not convenient for customers to visit the factory. So he can't believe that we are plastic gloves making machine factory from the beginning. In fact, I fully understand this situation. All cooperation must have a process of building trust.
During this period, through professional answers to customer questions, as well as phone calls and video presentations in addition to emails. Customers and YG gradually became friends. Of course, customers have to shop around, compare the plastic gloves making machine quality, nitrile gloves machine price, and the professionalism of the personnel. The final choice of YG shows that YG is indeed worthy of recognition. If you are looking for reliable plastic gloves making machine manufacturer, please contact us.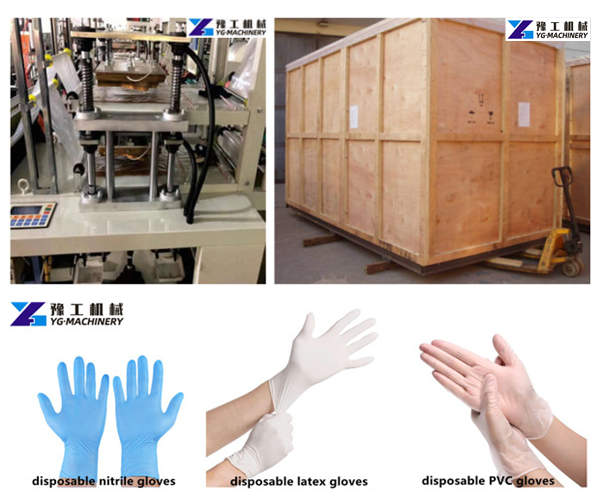 YG gloves making machine series
Our plastic gloves making machine includes nitrile gloves making machine, latex glove making machine, PE gloves making machine, and PVC plastic hand gloves making machine. At the same time, we have cotton gloves production line for sale. As a kind of work safety gloves, cotton knitting machine match gloves dipping machine or glove dotting machine. So as to labor protection gloves can achieve the effects of non-slip, dirt-resistant, wear-resistant, easy to clean, long service life, good warmth retention, and wide range of use.
Which kind of gloves making machine do you need? Please feel free to leave your requirements. As professional hand gloves making machine manufacturers, you will get high quality and cheap disposable plastic glove making machine from us definitely. The hand glove making machine that Turkey customer bought from us before has been put into use well. Meanwhile, plastic nitrile/latex/PE gloves wholesale is our business too. Henan YG Machinery Co., Ltd, plastic glove making machine experts around you.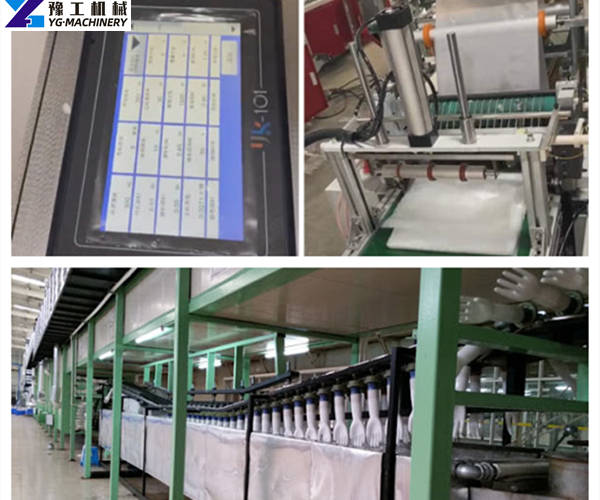 YG products series
YG machinery, focus on the R&D, manufacturing, sales of daily protective equipment production line machinery. Disposable face mask machine series. Melt-blown fabric cloth production line. Rain boots making machine. Wet wipes making machine series and so on. Sincerely looking forward to beginning cooperation with you in the near future.
At the same time, YG has the following production line series for sale. Disposable gloves making machine. Nitrile gloves production line. Latex gloves manufacturing machine. PE gloves machinery. Wet wipes making machine. Melt-blown fabric cloth machinery. Face mask manufacturing machinery. Also thermal fogger machine series. Electrostatic backpack sprayer. Room disinfection machines. Nano spray gun. If you are interested in them, please leave your message to tell us.
Email: admin@yugongengineering.com