Approved Flocked Swab Disposable Virus Sampling Tube
Product Name: Sample Collection Kits Disposable Virus Sampling Tube
Product Type: Type A(Non-inactivated)  Type B(Inactivated)
Product Specification: 2ML/2.5ML/3ML/3.5ML/5ML (Refers to the volume of the preservation solution).
Flocked Swab: One or two.
Product Include: Disposable virus sampling tube, flocked swab, biosafety bag.
PH: 7.0-7.6 (At 20-25 Celsius, the PH of the preservation solution).
Osmotic pressure: 262-354 mOsmol/K
Storage conditions: 5-25 Celsius
Shelf life: 12 months
Package: 20 servings/box or 50 servings/box. 30 boxes/pack.
MOQ: 1 00 000 servings
Additional: OEM is available.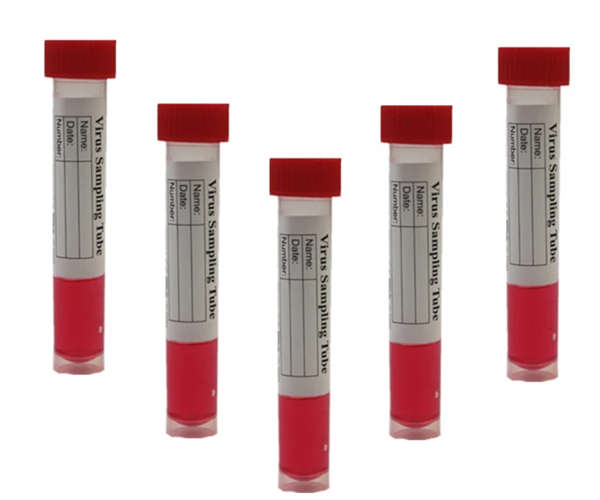 Features of Medical Sample Collection Kits
YG samples collection test kit disposable virus sampling tube and flock swab oral-nasal swabs test product can protect the sampling process effectively. The preservation solution is compatible to preserve virus activity to the greatest extent. Complete models and specifications to meet various virus sampling needs. Complete export certificates and procedures, welcome major medical consumable purchasers to contact us.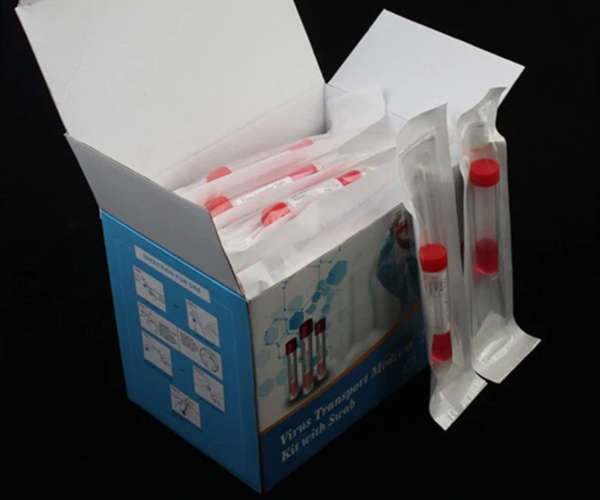 Disposable sampling collection tube with swab operation
1. Perform hand hygiene and put on gloves if necessary.
2. Gently insert the swab along the nasal septum just above the floor of the passage to the nasopharynx until resistance is met.
3. Rotate the swab gently against the nasopharyngeal mucosa for 10-15 seconds then gently remove swab.
4. After the swab is removed from the patient, place it into the tube of V's transport medium all the way to the bottom of the tube.
5. Hold the tube away from your face. Hold the end of the swab shaft, bend it at a 180 degrees angle to break at the marked breakpoint. If needed, gently twist the shaft between thumb and forefinger to completely remove it.
6. Put cap back on the tube.
7. Store the tube at 4-25ºC for no more than 4 days.
[lgc_column grid="33″ tablet_grid="33″ mobile_grid="33″ last="false"]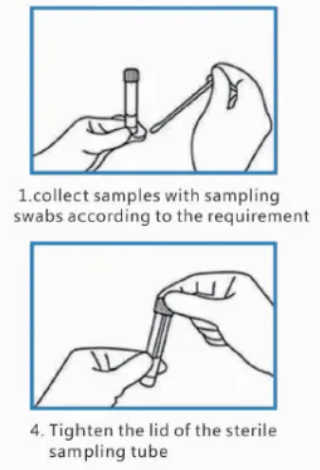 [/lgc_column] [lgc_column grid="33″ tablet_grid="33″ mobile_grid="33″ last="false"]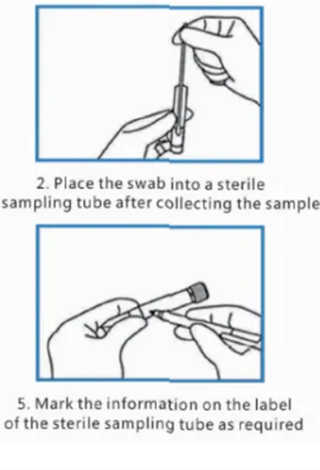 [/lgc_column] [lgc_column grid="33″ tablet_grid="33″ mobile_grid="33″ last="false"]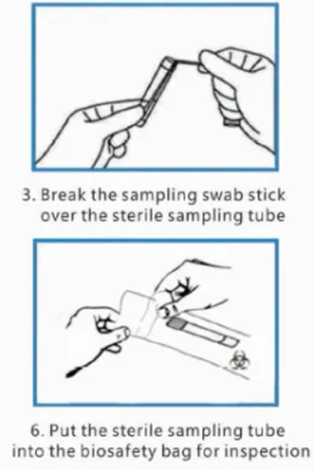 [/lgc_column]
Storage conditions and validity period
1. Store reagents at room temperature. Do not expose to strong light.
2. Reagent expiration date. The reagents are stored for 12 months at room temperature. Unused reagents are valid for 5 days after opening the bottle.
3. Reagent deterioration indicator, there are signs of microbial contamination or obvious turbidity in the reagent, and the pH value exceeds the range of 6.8-8.0.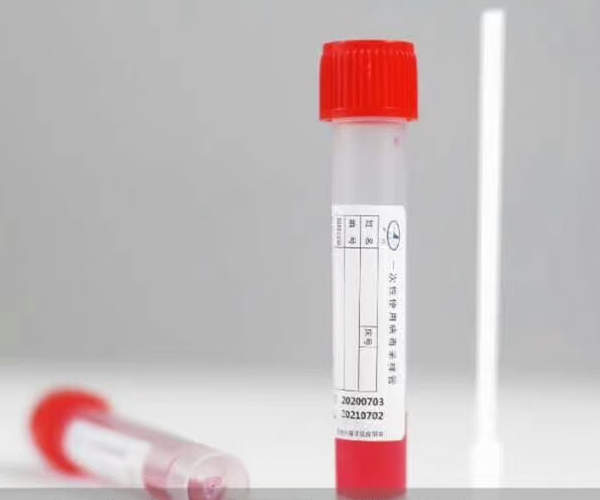 Instructions
(Note: Please read the instructions carefully before use. Working condition requirements: room temperature)
1. Take 3ml of virus preservation solution.
2. Use a long-handled throat swab to sample.
3. Insert the cotton swab into the tube containing the transport medium, break off the tail, and then leave it in the storage solution tube, cover the tube, store it at room temperature, and use it within 5 days.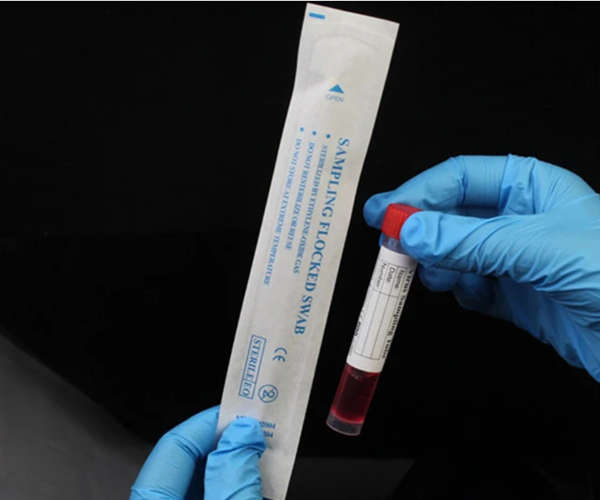 Precautions
1. Store at room temperature and send it for inspection within five days.
2. This product is only used for in vitro diagnosis.
3. This product is only suitable for trained personnel
4. When using this product, please wear gloves and a mask to take protective measures.
5. The waste sample collection solution should be disinfected.
6. If it is found that the sample storage solution has expired, the storage solution is turbid and leakage is prohibited.
7. If the packaging of the sampling cotton swab is found to be damaged, its use should be prohibited.
In addition, YG also has other medical consumables for sale. For example, disposable nirtrile/latex gloves, N95 medical masks, melt-blown fabric cloth, protective suit and so on. Please feel free to contact us if you are looking for them.
Other Products
YG Machinery has a variety of drilling rigs for sale. For example, down the hole drilling rigs machine, water well drilling rig, small water well drilling machine, anchor rig, core drill rig, horizontal directional drilling rig, rotary drilling rig, etc. Now contact us to get the drilling rigs price list. In addition, water bottle filling machine, wet wipes making machine, mask making machine, meltblown making machine. Thermal fogging machine, disinfection fogger mist machine, backpack disinfectant sprayer, disinfection gate, disinfection channel, etc. Contact us now.
Email: admin@yugongengineering.com