Dust Suppression Vehicle-Customer Case
On May 29, our Nigerian customer Charles received the product—two dust suppression vehicles. Speaking of this order, this is the third cooperation between YG company and Charles. The first time was in June 2019, Charles purchased 10 fog cannon machines at that time. The second time was in October of 2019, and this time he bought a hydroseeding machine. Because he is engaged in environmental protection equipment related work in Nigeria all the time. So he sent us an inquiry for two spray vehicles for dust suppression again in early May this year.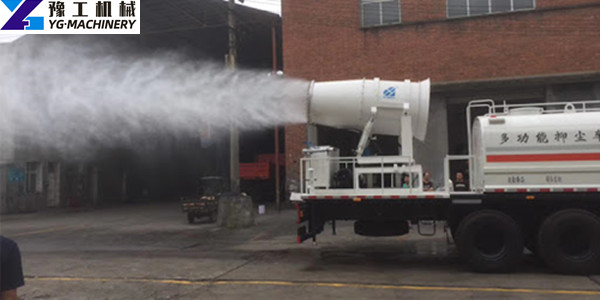 Dust Suppression Vehicle-Customer Feedback
Because of the trust foundation laid by the previous two cooperations, the time for negotiating orders this time is very short. The cooperation has been reached in about 10 days. Therefore, customers will quickly receive the fog cannon vehicle-mounted water mist and quickly put it into use. After being put into use, Charles told us that some advantages of machine dust suppression vehicles are indeed worth buying.
First of all, the dust reduction effect is very good. In addition, water consumption is significantly less than that of ordinary sprinklers, which significantly saves water resources. On the other hand, the dust suppression truck can hold 10 tons of water, and the water consumption is slow. Therefore, the dust suppression vehicle working efficiency of the entire sprinkling process is greatly improved. And the labor cost is also reduced. We are very happy that customers have such feedback. Customer satisfaction with fog cannon truck-mounted dust suppression products is the unremitting pursuit of all employees of YG.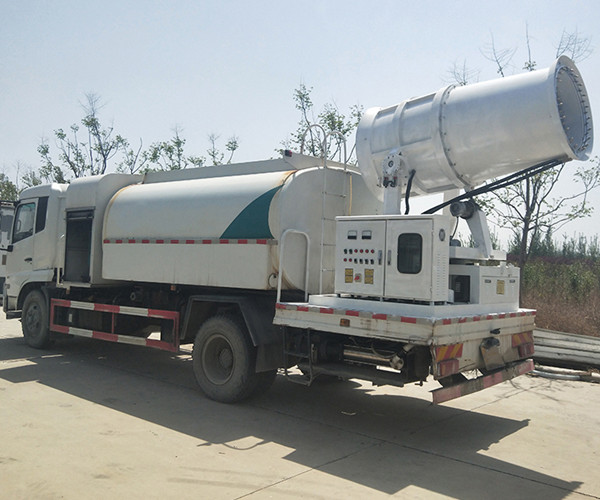 Why Choose YG spray vehicles for dust suppression?
Yugong Machinery Co., Ltd. focuses on the R & D, manufacturing and sales of environmental protection equipment. For example, mist cannon machine is used in construction engineering, road construction and bridge construction site to reduce dust. There are also for slope greening protection of the hydroseeding machine and other related environmental protection facilities.
Yugong(YG) engineering company has been engaged in the machinery industry for more than 20 years. Our products strictly stand by SGS, ISO90012000 quantity control system standards. We have CE certification and so on. We have a good after-sales service system. Please feel free to contact us if you have any questions during the warranty period. Buy professional industrial dust control products, choose YG is your ideal choice.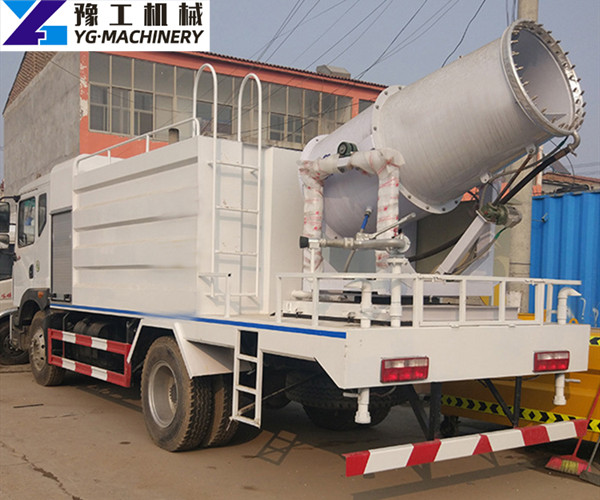 Dust Control Products Parameters
| | |
| --- | --- |
| Water tank volume | 8m³,12m³,16m³,20m³ |
| Dimension(m) | 9.9*2.5*3.7 |
| Totally weight(kg) | 25000 |
| KPH | 90km/h |
| Front gauge(mm) | 2040 |
| Rear track(mm) | 1860 |
| Fuel category | diesel oil |
| Wheelbase(mm) | 4350+1350 |
| Rotation angle | ±360° |
| Spraying substance | Water mist, disinfectant liquid |
| Spraying distance | 30m 40m 60m 80m 100m |
| Operating mode | Manual/automatic |
| Mist particle size | 40-200μm |
Dust Suppression Truck Special Functions
In a special period, the fog gun can not only spray water to suppress dust but also can be used to fill disinfectants to carry out large-scale public health disinfection, sterilization, and epidemic prevention work. If you are looking for a professional dust control products supplier, YG company will be your good partner. Now leave your requirements, we will reply to you as soon as possible.
At the same time, YG has the following production line series for sale. Disposable gloves making machine. Nitrile gloves production line. Latex gloves manufacturing machine. PE gloves machinery. Wet wipes making machine. Melt-blown fabric cloth machinery. Face mask manufacturing machinery. Also thermal fogger machine series. Electrostatic backpack sprayer. Room disinfection machines. Nano spray gun. If you are interested in them, please leave your message to tell us.