YG high-speed rotary tablet press machine is very popular with customers. At present, YG has exported the tablet press to France, the United States, Switzerland, New Zealand, and other countries and regions. Recently, YG exported a rotary tablet press to Korea, and the following is the background information of this customer.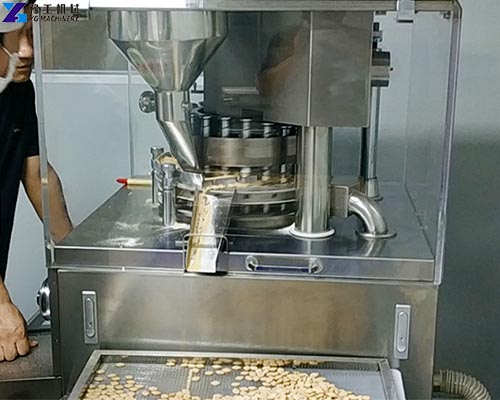 Korean Customer Background
A Korean customer, King, is a procurement manager of a pharmaceutical company, and he is looking for a device for his company that can press raw materials into tablets. In order to better match the equipment, the customer mailed his finished pills to us. After receiving the customer's finished pills, we used our existing equipment and matched the corresponding molds to test the machine and shoot videos for the customer. After receiving YG's video feedback, King was very satisfied with YG's equipment and service and quickly paid the deposit.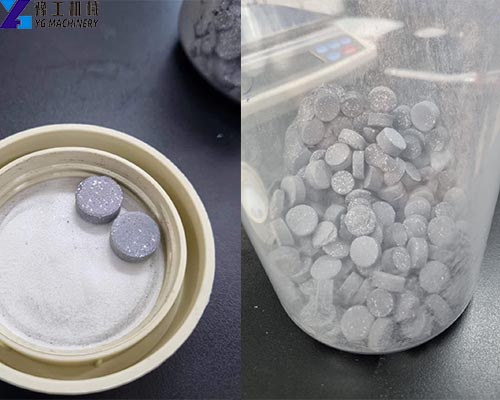 Korea Rotary Tablet Press Parameters
Model
YGZP43
Number of stations
43
Tooling standard
B
Max main pressure
100KN
Max pre-pressure
20KN
Max tablet diameter
Round tablet 18mm
Irregular tablet 19mm
Max filling depth
18mm
Max tablet thickness
7mm
Max turret speed
60r/min
Max capacity
309600
Main motor power
7.5kw
Overall size
1370x1170x1800mm
Machine weight
3200kg
About YG High-Speed Rotary Tablet Press Machine
Compared with single-punch tablet presses, high-speed rotary tablet presses have a variety of auxiliary punches and can achieve bidirectional tablet compression. This kind of tablet press presses up and down evenly at the same time, which improves the uniformity of tablet density and reduces the phenomenon of splitting. The rotary tablet press machine can not only press tablets into a round and oval shape, but also produce triangular, rhombus, square, and other shaped tablets. With the development of market demand, rotary tablet press is no longer limited to use in the pharmaceutical industry, it can also be used in food, chemical, health care products, and other industries.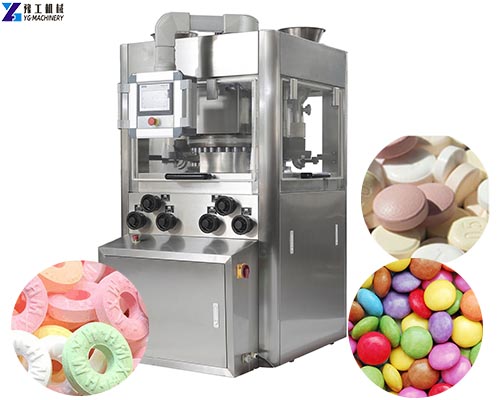 Why use a Rotary Tablet Press to Prepare Tablets?
Tablet preparation mainly includes methods such as wet granulation, dry granulation, powder direct compression, and freeze-drying. For example, the heating process of the wet granulation process, the moisture generated will affect some chemically unstable drugs. These drugs may be hydrolyzed and unstable, so the quality of the product cannot be guaranteed.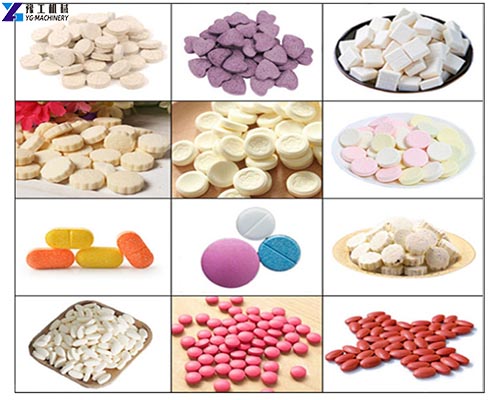 The production process of powder direct tableting is simple, without granulation, drying, pharmaceutical stability, and a high degree of automation. Therefore, many pharmaceutical companies at home and abroad use this method to make tablets. The rotary tablet press directly makes dry powder or granular raw materials into tablets. The device can change the size of the punch to change the dose size and can change the style of the molding die to make tablets of different shapes. Therefore, it can meet the production requirements of different customers. Therefore, high-speed rotary tablet presses have become popular tablet pressing equipment in many fields such as pharmaceuticals, food, and industry.