In the construction of buildings, roads, bridges and other projects, the pouring of secondary structural columns is required. Some pouring sites may be taller, narrower, and have special construction conditions. At this time, it requires a small concrete pump to realize the function of transporting the concrete to the pouring site. There are different small concrete pump types, how should we choose?
The function of small mobile concrete pump
The main function of the small portable concrete pump is to transport the mixed concrete to the construction site. It mainly uses pressure to continuously transport concrete along the pipeline to the pouring site for pouring.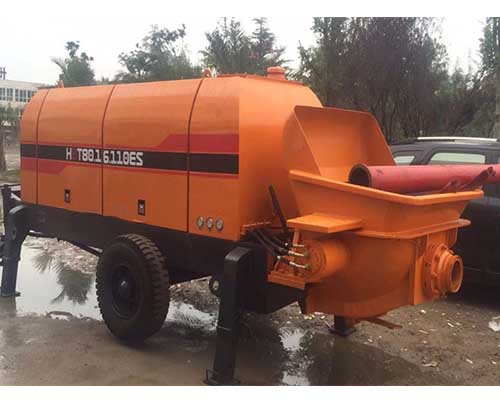 Depending on the situation at the pouring site, horizontal or vertical piping can be selected. Mini portable concrete pumps are often used in housing construction, hydropower stations, tunnels, mine construction and other places where concrete needs to be poured. These small concrete pumps have a small footprint and are mobile, making them the best machines for concrete transport.
What are the small concrete pump types?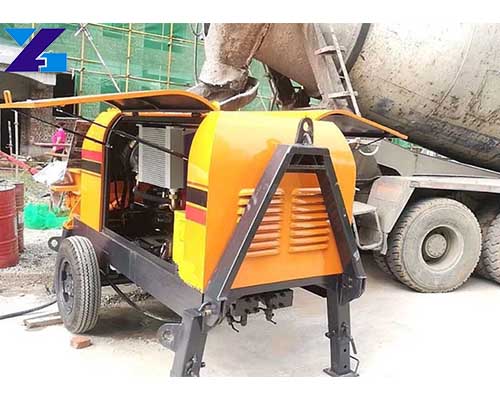 There are many types of small concrete pumps. According to their different characteristics, mini concrete pumps have various classifications.
Depending on the way the machine stands, concrete pumps have vertical, horizontal types
Depending on the power and the way to drive the machine, it has electric, diesel concrete pumps.
It has a small concrete mixer pump with only conveying function and a concrete mixing pump with both conveying and mixing functions.
Yugong Machinery is a manufacturer specializing in the manufacture of construction machinery. Yugong provides all of the above mini concrete pumps. If you would like to purchase a small concrete pump for your construction site, please contact us.